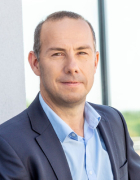 Academic Career and Research Areas
Prof. Lickert is a full professor and holds the Chair of ß-Cell Biology at TUM School of Medicine. He is also director of the Institute of Diabetes and Regeneration Research (IDR) and adjunct professor at the Institute of Stem Cell Research (ISF) at Helmholtz Zentrum München. He is on the executive committee of the Helmholtz Diabetes Center (HDC) and TUMCells GMP Facility and on the research coordination board of the German Center for Diabetes Research (DZD).
He obtained his PhD from the University of Freiburg and Max Planck Institute in Freiburg. His postdoctoral studies were carried out at Mount Sinai Hospital, Toronto, Canada. He is an expert on organ development and tissue homeostasis with emphasis on endocrine lineage formation in the gut and pancreas, insulin-producing ß-cell development, regeneration and replacement, as well as metabolic signaling and stem cell-based drug screening. His work has been funded by the European Research Council (ERC), a prestigious Emmy-Noether fellowship of the German Research Foundation (DFG), the Ministry of Education and Research (BMBF), the Alexander von Humboldt Foundation, the Helmholtz Association and the European Union.
Awards
ERC Advanced Grant, European Research Council (ERC) (2022)
m4 Award, Bavarian State Ministry for Economic Affairs, Regional Development and Energy (2021)
Werner-Creutzfeld-Prize, German Diabetes Association (DDG) (2020)
ERC Starting Grant Awardee European Research Council (ERC) (2009)
Emmy-Noether Fellow (2005)
Bader E et al: "IdentScheibner K, Schirge S, Burtscher I, Büttner M, Sterr M, Yang D, Böttcher A, Ansarullah, Irmler M, Beckers J, Cernilogar FM, Schotta G, Theis FJ, Lickert H.§ Epithelial cell plasticity drives endoderm formation during gastrulation. Nat Cell Biol. 2021 Jul;23(7):692-703.
Abstract
Ansarullah, Jain C, Far FF, Homberg S, Wißmiller K, von Hahn FG, Raducanu A, Schirge S, Sterr M, Bilekova S, Siehler J, Wiener J, Oppenländer L, Morshedi A, Bastidas-Ponce A, Collden G, Irmler M, Beckers J, Feuchtinger A, Grzybek M, Ahlbrecht C, Feederle R, Plettenburg O, Müller TD, Meier M, Tschöp MH, Coskun Ü, Lickert H.§ Inceptor counteracts insulin signalling in β-cells to control glycaemia. Nature. 2021 Feb;590(7845):326-331.
Abstract
Mahaddalkar PU, Scheibner K, Pfluger S, Ansarullah, Sterr M, Beckenbauer J, Irmler M, Beckers J, Knöbel S, Lickert H.§ Generation of pancreatic β cells from CD177+ anterior definitive endoderm. Nat Biotechnol. 2020 Sep;38(9):1061-1072.
Abstract
Sachs S, Bastidas-Ponce A, Tritschler S, Bakhti M, Böttcher A, Sánchez-Garrido MA, Tarquis-Medina M, Kleinert M, Fischer K, Jall S, Harger A, Bader E, Roscioni S, Ussar S, Feuchtinger A, Yesildag B, Neelakandhan A, Jensen CB, Cornu M, Yang B, Finan B, DiMarchi RD, Tschöp MH, Theis FJ, Hofmann SM, Müller TD, Lickert H.§ Targeted pharmacological therapy restores β-cell function for diabetes remission. Nat Metab. 2020 Feb;2(2):192-209.
Abstract
Bader E, Migliorini A, Gegg M, Moruzzi N, Gerdes J, Roscioni SS, Bakhti M, Brandl E, Irmler M, Beckers J, Aichler M, Feuchtinger A, Leitzinger C, Zischka H, Wang-Sattler R, Jastroch M, Tschöp M, Machicao F, Staiger H, Häring HU, Chmelova H, Chouinard JA, Oskolkov N, Korsgren O, Speier S, Lickert H.§ Identification of proliferative and mature β-cells in the islets of Langerhans. Nature. 2016 Jul 21;535(7612):430-4.
Abstract