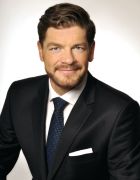 Academic Career and Research Areas
Professor Loos studies behavioral and household finance with a particular focus on financial advice, (digital) product innovations like ETFs, fintech and individual investor behavior in general. To address new fundamental questions his research is mostly based on big proprietary datasets stemming from collaborations with banks and fintechs as well as from field- and laboratory experiments.
Before joining TUM School of Management in June 2020, Professor Loos held positions as Associate Professor at the University of Technology Sydney, and as Assistant Professor at Mannheim Business School and Goethe University Frankfurt. He completed his PhD in 2015 at Goethe University Frankfurt with his thesis titled "Potential Solutions to Individual Investors' Investment Mistakes". Prior to his Ph.D., Professor Loos worked in the investment banking departments of Bank of America and HSBC.
Awards
2017 — PhD Thesis Award — Winner University Prize Deutsches Aktieninstitut EUR 25,000 (Umbrella organization of German exchange-listed firms)
Laudenbach, C., Loos, B., Pirsche, J., & Wohlfahrt, J. (forthcoming): "The trading response of individual investors to local bankruptcies." Journal of Financial Economics.
Abstract
Bhattacharya, U., Loos, B., Meyer, S., & Hackethal, A. (2017): "Abusing ETFs." Review of Finance, 21(3): 1217- 1250.
Abstract
Bhattacharya, U., Hackethal, A., Kaesler, A., Loos, B., & Meyer, S. (2012): "Is Unbiased Financial Advice to Retail Investors Suffcient? Answers from a Large Field Study." The Review of Financial Studies, 25(4): 975-1032.
Abstract