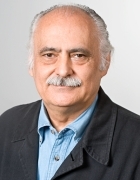 Prof. Victor López Cotelo
Professorship
Design and Conservation
of Historical Buildings
Professor emeritus since October 1, 2012
Academic Career and Research Areas
The work of Prof. López Cotelo (b. 1947) centers on the search for the essence of a place and its temporal dimension, as does the teaching and research of his Chair. This serves as a starting point to define the architectonic context in order to integrate new elements into existing architecture.
After studying architecture at the Superior Technical School of Architecture in Madrid (ETSAM), Prof. López Cotelo spent two years gaining experience in the profession, notably at the practice of G. Behnisch in Munich. In 1972, he returned to Madrid and worked at the firm of Alejandro de la Sota. In 1979, he founded his own architectural practice in Madrid. From 1983 to 1986, he lectured in design at ETSAM. In 1993, he was a visiting professor at the Chair of Design and Conservation of Historical Buildings at TUM. In 1995, he succeeded Prof. Joseph Wiedemann and Prof. Dr. Otto Meitinger as full professor of this Chair. Victor López Cotelo is a member of the Colegio oficial de Arquitectura Madrid (COAM), an associate member of the Association of Bavarian Architects (BDA), a correspondent member of the Bavarian Academy of Fine Arts and a member of the Academy of the Arts, Berlin – Architecture section.
Key Publications
López Cotelo V, Vargas Funes JM: "Vivienda unifamiliar en Puente Sarela, Santiago de Compostela". in TECTÓNICA. 2008; 27 (2): 28-53.
Abstract
López Cotelo V: Victor López Cotelo. In: Artistas Gallegos. 2004; 18-47.
López Cotelo V, Grinda EG: "Edificio administrativo para el Ministerio de interior". TECTÓNICA. 1996; 4: 50-63.
Abstract
López Cotelo V: "Casa de las Conchas. Rehabilitación para Biblioteca Pública". El Croquis, 1993; 62/63: S. 66-81.
López Cotelo V: "Ayuntamiento de Valdelaguna". El Corquis. 1987; 27: 98-105.