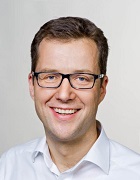 Academic Career and Research Areas
Prof. Mall's (b. 1968) research focuses on the psychosocial and biological factors of the development of children and adolescents as well as their developmental disorders. He developed a screening sheet for psychosocial stress factors for the German U-examinations in the pediatric practice and explores the pathophysiological bases of developmental disorders with the help of transcranial magnetic stimulation. His studies deal with diagnostics and therapy of children with cerebral palsy, with posttraumatic stress disorder, regulation disorder, Noonan syndrome and neurofibromatosis.
Professor Mall studied medicine at Freiburg, specializing in pediatrics with focus on pediatric neurology. He was leading senior physician, leading the child protection team and established the competence center for early help and child protection with the city of Freiburg. He hosted congresses of the German Society for Social Pediatrics and Youth Medicine as well as the Society for Neuropediatrics. He initiated the congress "Focus Cerebral Palsy" with scientific specialist societies which he hosted in 2009. Professor Mall was appointed professor for Neuropediatrics in Dresden in 2011 and joined the faculty of TUM in 2012.
Soykoek S, Mall V, Nehring I, Hennigsen P, Aberl S: "Post-traumatic stress disorder in Syrian children of a German refugee camp". Lancet. 2017; 389(10072): 903-904.
Abstract
Delvendahl I, Lindemann H, Jung NH, Pechmann A, Siebner HR, Mall V: "Influence of waveform and current direction on short-interval intracortical facilitation: a paired-pulse TMS study". Brain Stimulation. 2014; 7(1): 49-58.
Abstract
Juenger H, Kuhnke N, Braun C, Ummenhofer F, Wilke M, Walther M, Koerte I, Delvendahl I, Jung NH, Berweck S, Staudt M, Mall V: "Two types of exercise-induced neuroplasticity in congenital hemiparesis: a TMS, fMRI and MEG study". Developmental Medicine and Child Neurology. 2013; 55(10): 941-51.
Abstract
Delvendahl I, Jung NH, Kuhnke NG, Ziemann U, Mall V: "Plasticity of motor threshold and motor-evoked potential amplitude – a model of intrinsic and synaptic plasticity in human motor cortex?". Brain Stimulation. 2012; 5(4): 586-93.
Abstract
Hodapp M, Vry J, Mall V, Faist M: "Changes in soleus H-reflex modulation after treadmill training in children with cerebral palsy". Brain. 2009; 132(1): 37-44.
Abstract