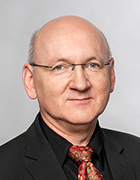 Prof. Dr. Steffen Marburg
Academic Career and Research Areas
The research interests of Steffen Marburg (b. 1965) encompass the development and application of numerical methods for vibroacoustics and aeroacoustics, the experimentally based virtual prototyping of complex models in combination with parameter identification, the consideration and identification of parameter variations and structural acoustic optimization. The applications are manifold and include automotive parts, ships, electric tools and musical instruments.
Marburg graduated from TU Dresden where he was awarded a doctoral degree in 1998. Subsequently he stayed on at TU Dresden and in 2004 became a junior professor for Structural Acoustic Optimization/Boundary Element Methods. In 2010 he moved to the University of the Federal Armed Forces in Munich and became a full professor for Technical Dynamics. In 2015 he was awarded the new professorship for Vibroacoustics at TUM. Prof. Marburg is Co-Editor-in-Chief of the Journal of Theoretical and Computational Acoustics as well as Associate Editor for the Journal of the Acoustical Society of America and Editor of the journals Acoustics Australia and Mechanical Systems and Signal Processing.
Moheit L, Schmid JD, Schmid JM, Eser M, & Marburg S: "Acoustics Apps: Interactive simulations for digital teaching and learning of acoustics". The Journal of the Acoustical Society of America. 2021; 149(2): 1175-1182.
Abstract
Baydoun SK, Voigt M, Jelich C, & Marburg S: "A greedy reduced basis scheme for multifrequency solution of structural acoustic systems". International Journal for Numerical Methods in Engineering. 2020; 121(2): 187-200.
Abstract
Melnikov A, Maeder M, Friedrich N, Pozhanka Y, Wollmann A, Scheffler M, ... & Marburg S: "Acoustic metamaterial capsule for reduction of stage machinery noise". The Journal of the Acoustical Society of America. 2020; 147(3): 1491-1503.
Abstract
Marburg S, Nolte B: Computational acoustics of noise propagation in fluids. Finite and boundary element methods. Berlin Heidelberg: Springer–Verlag, 2008.
Abstract
Marburg S: ,,Developments in structural–acoustic optimization for passive noise control". Archives of Computational Methods in Engineering. State of the art reviews. 2002; 9(4): 291–370.
Abstract