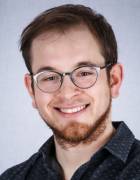 Prof. Dr. Tobias Meggendorfer
Academic Career and Research Areas
Prof. Meggendorfer's field of research is the area of formal methods, in particular verification of probabilistic systems. His current focus is to establish a broader recognition for notions of risk in such systems and usage of risk-aware verification. Aside from that, he contributes to LTL and omega-automata, machine learning in verification, and game theory.
Prof. Meggendorfer studied at TUM, obtaining Masters' degrees in both Mathematics and Computer Science. This was followed by a doctorate at TUM under Prof. Jan Kretinsky and a Post-Doc at the Institute of Science and Technology Austria with the Chatterjee group. Since 2023, Prof. Meggendorfer is a Interim Professor at TUM.
Jan Křetínský, Tobias Meggendorfer, and Maximilian Weininger: "Stopping Criteria for Value Iteration on Stochastic Games with Quantitative Objectives". In: LICS 2023.
Abstract
Krishnendu Chatterjee, Tobias Meggendorfer, Raimundo Saona, and Jakub Svoboda: "Faster Algorithm for Turn-based Stochastic Games with Bounded Treewidth". In: SODA 2023.
Abstract
Tobias Meggendorfer: "Risk-Aware Stochastic Shortest Path." In: AAAI 2022.
Abstract
Jan Křetínský, Tobias Meggendorfer, and Salomon Sickert: "Owl: A Library for ω-Words, Automata, and LTL". In: ATVA 2018.
Abstract
Jan Křetínský, and Tobias Meggendorfer: "Conditional Value-at-Risk for Reachability and Mean Payoff in Markov Decision Processes". In: LICS 2018.
Abstract