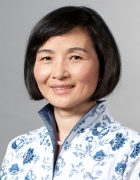 Prof. Dr.-Ing. Liqiu Meng
Academic Career and Research Areas
Prof. Meng (*1963) conducts research in the field of cartography and visual analytics. Her recent research focus includes geodata integration, spatial cognition, Mixed Reality, visual data mining, map-based multimodal navigation services, and open portal for geospatial events.
Prof. Meng earned her M.Sc. in cartography and geodetic engineering in 1985 in China and her PhD in geodetic engineering at the University of Hannover in 1993. She earned her university teaching qualification in 1998 at the Royal Institute of Technology, Sweden, and was appointed to the Chair of Cartography at TUM the same year. From 2009 to 2012, Prof. Meng was Senator of the Helmholtz Association for the research field Earth and Environment. From 2008 to 2014, she served as Senior Vice President of TUM for international alliances and alumni. She has been a member of the German National Academy of Sciences since 2011 and of the Bavarian Academy of Sciences since 2013. She is Vice President for the International Cartographic Association.
Meng L: "An IEEE value loop of human-technology collaboration in geospatial information science". Geo-spatial Information Science. 2020; 1-7.
Abstract
Li K, Wan G, Cheng G, Meng L & Han J: "Object detection in optical remote sensing images: A survey and a new benchmark". ISPRS Journal of Photogrammetry and Remote Sensing. 2020; 159: 296-307.
Abstract
Ding L, Xiao G, Calvanese D & Meng L: "A Framework Uniting Ontology-Based Geodata Integration and Geovisual Analytics". International Journal of Geo-Information. 2020.
Abstract
Chuprikova E & Meng L: "Reasoning about socio-economic data: a visual analytics approach to Bayesian network". International Journal of Cartography. 2019; 1-17.
Abstract
Meng L: "The Constancy and Volatility in Cartography". Acta Geodaetica et Cartographica Sincia. 2017; 46(10): 1637-1644.
Abstract