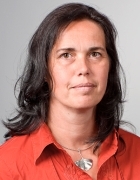 Academic Career and Research Areas
Prof. Menzel (b. 1966) has been associate professor of ecoclimatology at TUM since 2007. The focus of her research lies on the interactions between the atmosphere and the biosphere. Her work covers several areas, including the collection and complex description of relevant parameters in various land use systems – for example, BVOCs, radiation and surface temperature. She also aims to detect and pinpoint the impact of climate change on terrestrial (alpine) ecosystems and human health and analyze the risks associated with extreme events.
After studying forestry sciences, she went on to do practical training at the Bavarian State Forestry Commission. In 1992, she became Forestry Officer at the Chair of Bioclimatology and Air Pollution Research at Munich Ludwig Maximilian University. She completed her doctorate there in 1997 and her lecturer qualification in 2002. Her research work has taken her to Chile and Canada. Prof. Menzel was one of the authors of the fourth assessment report of the Intergovernmental Panel on Climate Change (IPCC), which received the Nobel Peace Prize in 2007. She is listed as #304 on the Reuters list of the 1000 most influential climate scientists.
Fu YH, Zhao H, Piao S, Peaucelle M, Peng S, Zhou G, Ciais P, Huang M, Menzel A, Peñuelas J, Song Y, Vitasse Y, Zeng Z, Janssens IA: "Declining global warming effects on the phenology of spring leaf unfolding". Nature. 2015; 526(7571): 104-107 (doi: 10.1038/nature15402).
Rosenzweig C, Karoly D, Vicarelli M, Neofotis P, Wu Q, Casassa G, Menzel A, Root TL, Estrella N, Seguin B, Tryjanowski P, Liu C, Rawlins S, Imeson A: "Attributing physical and biological impacts to anthropogenic climate change". Nature. 2008; 453: 353-357.
Abstract
Menzel A, Sparks T, Estrella N, Koch E, Aasa A, Ahas R, Alm-Kübler K, Bissolli P, Braslavská O, Briede A, Chmielewski FM, Crepinsek Z, Curnel Y, Dahl Å, Defila C, Donnelly A, Filella Y, Jatczak K, Måge F, Mestre A, Nordli Ø, Peñuelas J, Pirinen P, Remišová V, Scheifinger H, Striz M, Susnik A, van Vliet AJH, Wielgolaski FE, Zach S, Zust A: "European phenological response to climate change matches the warming pattern". Global Change Biology. 2006; 12: 1969-1976.
Abstract
Walther GR, Post E, Convey P, Menzel A, Parmesan C, Beebee TJC, Fromentin JM, Hoegh-Guldberg O, Bairlein F: "Ecological responses to recent climate change". Nature. 2002; 416: 389-395.
Abstract
Menzel A, Fabian P: "Growing season extended in Europe". Nature. 1999; 397: 659.
Abstract