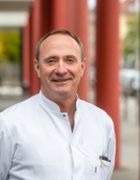 Academic Career and Research Areas
Professor Meyer (b. 1962) carries out research in the fields of vascular, oncological and spinal neurosurgery.
Professor Meyer studied medicine at the Universities of Padua/Italy and Erlangen-Nürnberg and also spent time abroad at Northwestern University, Chicago, and at the State University of New York, Brooklyn. He completed his medical studies and earned his PhD at the Institute for Human Genetics at the University of Erlangen-Nürnberg in 1989. He went on to train as a neurosurgeon in Tübingen, Duisburg and Bonn and spent time abroad in Zurich/Switzerland and Phoenix AZ/USA. In 1995 Professor Meyer acquired his German medical board certification in neurosurgery and became a senior physician at the Neurosurgical University Clinic in Bonn where he gained his postdoctoral teaching qualification (habilitation) in 1999. He was appointed Professor of Neurosurgery in 2001. Since 2006 Professor Meyer has held the Chair of Neurosurgery at TUM.
Awards
President, German Society for Spine Surgery (2019)
Chairperson, Education and Fellowship Committee, Eurospine (2015-2019)
Chairperson, Spine Section, European Association of Neurosurgical Societies (2010-2019)
Former President, International Group for Advancement in Spinal Science (2014-2018)
Former President, German Academy of Neurosurgery (2015)
Key Publications
Eitz KA, Lo SS, Soliman H, Sahgal A, Theriault A, Pinkham MB, Foote MC, Song AJ, Shi W, Redmond KJ, Gui C, Kumar AMS, Machtay M, Meyer B, Combs SE: "Multi-institutional Analysis of Prognostic Factors and Outcomes After Hypofractionated Stereotactic Radiotherapy to the Resection Cavity in Patients With Brain Metastases". JAMA Oncol. 2020; 6(12):1901–9.
Abstract
Fischgrund JS, Rhyne A, Franke J, Sasso R, Kitchel S, Bae H, Yeung C, Truumees E, Schaufele M, Yuan P, Vajkoczy P, DePalma M, Anderson DG, Thibodeau L, Meyer B.: "Intraosseous basivertebral nerve ablation for the treatment of chronic low back pain: a prospective randomized double-blind sham-controlled multi-center study". Eur Spine J. 2018; 27(5):1146-1156.
Abstract
Janssen I, Ryang YM, Gempt J, Bette S, Gerhardt J, Kirschke JS, Meyer B.: "Risk of cement leakage and pulmonary embolism by bone cement-augmented pedicle screw fixation of the thoracolumbar spine". Spine J. 2017; 17(6):837-844.
Abstract
Ringel F, Pape H, Sabel M, Krex D, Bock HC, Misch M, Weyerbrock A, Westermaier T, Senft C, Schucht P, Meyer B, Simon M; SN1 study group.: "Clinical benefit from resection of recurrent glioblastomas: results of a multicenter study including 503 patients with recurrent glioblastomas undergoing surgical resection". Neuro Oncol. 2016; 18(1):96-104.
Abstract
Ryang YM, Villard J, Obermüller T, Friedrich B, Wolf P, Gempt J, Ringel F, Meyer B.: "Learning curve of 3D fluoroscopy image-guided pedicle screw placement in the thoracolumbar spine". Spine J. 2015; 15(3):467-76.
Abstract