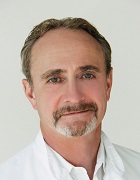 Academic Career and Research Areas
Professor Meyer (b. 1962) carries out research in the fields of vascular, oncological and spinal neurosurgery.
Professor Meyer studied medicine at the Universities of Padua/Italy and Erlangen-Nürnberg and also spent time abroad at Northwestern University, Chicago, and at the State University of New York, Brooklyn. He completed his medical studies and earned his PhD at the Institute for Human Genetics at the University of Erlangen-Nürnberg in 1989. He went on to train as a neurosurgeon in Tübingen, Duisburg and Bonn and spent time abroad in Zurich/Switzerland and Phoenix AZ/USA. In 1995 Professor Meyer acquired his German medical board certification in neurosurgery and became a senior physician at the Neurosurgical University Clinic in Bonn where he gained his postdoctoral teaching qualification (habilitation) in 1999. He was appointed Professor of Neurosurgery in 2001. Since 2006 Professor Meyer has held the Chair of Neurosurgery at TUM.
Awards
President, German Society for Spine Surgery (2019)
Chairperson, Education and Fellowship Committee, Eurospine (2015-2019)
Chairperson, Spine Section, European Association of Neurosurgical Societies (2010-2019)
Former President, International Group for Advancement in Spinal Science (2014-2018)
Former President, German Academy of Neurosurgery (2015)
Key Publications
Picht T, Krieg SM, Sollmann N, Neuvonen T, Savolainen P, Mäkelä J, Lioumis P, Deletis V, Meyer B, Vajkoczy P Ringel F: "A comparison of Language Mapping by preoperative navigated transcranial magnetic stimulation and direct cortical stimulation during awake surgery". Neurosurgery. 2013; 72(5): 808-819.
Abstract
Ringel F, Stüer C, Preuss A, Reinke A, Stoffel M, Meyer B: "Accuracy of robot-assisted placement of lumbar and sacral pedicle screws: a prospective randomized comparison to conventional freehand screw implantation". Spine. 2012; 37(8): E496-501.
Abstract
Yasuno K, Bigovar K, Bijlenga P, Low SK, Krischek B, Auburger G, Simon M, Krex D, Arlier Z, Nayak N, Ruigrok YM, Niemela M, Tajima A, Fraunberg M, Doczi T, Wirjatijasa F, Hata A, Blasco J, Oszvald A, Kasuya H, Zilani G, Schoch B, Singh P, Stüer C, Risselada R, Beck J, Sola T, Ricciiardi F, Aromaa A, Illig T, Schreiber S, van Duijin C, van den Berg LH, Perret C, Proust C, Roder C, Ozturk A, Gaal E, Berg D, Geisen C, Friedrich CM, Summers P, Frangi AF, State MW, Wichman HE, Breteler MMB, Wijmenga C, Mane S, Peltonen L, Elio V, Sturkenboom M, Lawford P, Byrne J, Macho J, Sandalcioglu EI, Meyer B, Raabe A, Steinmetz H, Rüfenacht D, Jaäskeläinen JEJ, Hernesniemi J, Rinkel GJE, Zembutsu H, Itoruo I, Palotie A, Cambien F, Nakamura Y, Lifton RP, Günel M: "Genome-wide association study of intracranial aneurysms identifies three new risk loci". Nature Genetics. 2010; 42(5):420-425.
Abstract
Ringel F, Stoffel M, Stüer C, Meyer B: "Minimally invasive transmuscular pedicle screw fixation of the thoracic and lumbar spine". Neurosurgery. 2006; 59(4 Suppl 2): ONS361-6.
Abstract
Vajkoczy P, Meyer B, Weidauer S, Raabe A, Thome C, Ringel F, Breu V, Schmiedek P: "The selective endothelin A (ETA) receptor antagonist clazosentan (AXV-034343) prevents and reverses cerebral vasospasm following severe aneurysmal subarachnoid hemorrhage - a phase IIa, multicenter, double-blind, placebo-controlled, randomized study". Journal of Neurosurgery. 2005; 103(1): 9-17.
Abstract