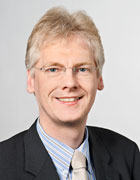 Academic Career and Research Areas
The research focus of Professor Minner (b. 1969) is on the design and optimization of global supply chains under uncertainty. His work includes developing decision support tools for inventory management, transportation and urban logistics, and investigating and applying strategic logistics network design methods.
After his studies in business administration at the University of Bielefeld he received his doctoral degree from the University of Magdeburg in 1999, was a postdoctoral researcher at the University of Calgary and acquired his postdoctoral teaching qualification (habilitation) in 2003. After professorship positions at the universities Mannheim (2004-2008) and Vienna (2008-2012) he joined TUM. Professor Minner is the editor-in-chief of the International Journal of Production Economics, vice-chairman of the scientific advisory board of the German Logistics Association and member of the research committee of the European Logistics Association.
Awards
Fellow, International Society for Inventory Research (2016)
Ranked #11 out of more than 2000 Business Professors in German speaking countries in the category "Recent research" and #17 in the category "Life time achievement", Handelsblatt research ranking (2014)
Service Award of the International Society for Inventory Research (2006)
Scientific award of the German Operations Research Society (GOR) for applied research (1999)
Dissertation award of the Faculty of Economics and Management, Otto-von-Guericke-University of Magdeburg (1999)
Karaenke P, Bichler M, Minner S: "Coordination is Hard: Electronic Market Mechanisms For Increased Efficiency in Transportation Logistics". Management Science. forthcoming.
Abstract
Klosterhalfen S, Minner S, Willems SP: "Strategic safety stock placement in supply networks with static dual supply". Manufacturing & Service Operations Management. 2014; 16(2): 204-219.
Abstract
Kremer M, Minner S, van Wassenhove LN: "On the Preference to Avoid Ex-Post Inventory Errors". Production and Operations Management. 2014; 23(5): 773-787.
Abstract
Löhndorf N, Wozabal D, Minner S: "Optimizing Trading Decisions for Hydro Storage Systems using Approximate Dual Dynamic Programming". Operations Research. 2013; 61(4): 810-823.
Abstract
Kremer M, Minner S, van Wassenhove LN: "Do Random Errors Explain Newsvendor Decisions?". Manufacturing & Service Operations Management. 2010; 12(4): 673-681.
Abstract