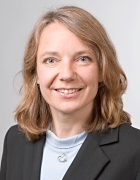 Prof. Dr. Gabriele Multhoff
Academic Career and Research Areas
The focus of Prof. Multhoff's research (*1961) is the development of innovative immunological prognosis and therapy methods based on heat shock proteins (SFB 824: in vivo imaging, NK cells, antibodies and nanoparticles). The newly developed companion diagnostics and therapy approaches are to undergo clinical implementation in combination with conventional radiotherapy. The results of a BMBF-funded, randomised clinical phase II trial entitled: "Targeted NK cell based adjuvant immunotherapy for the treatment of patients with NSCLC after radiochemotherapy" show that NK cells make an important contribution to the control of solid tumours in combination with radiotherapy. Currently, the extent to which immune checkpoint inhibitors and CAR receptors on NK cells can further increase the success of radiation immunotherapy is being investigated. Prof. Multhoff stands scientifically for the analysis of cellular, molecular biological and immunological mechanisms in normoxic and hypoxic tumour and normal tissues after radiation exposure.
After studying biology at the LMU Munich, Prof. Multhoff obtained her doctorate in immunology in 1990 and habilitated within the framework of a Möllemann habilitation scholarship (1998). In 2002 she was appointed Professor of "Experimental Haematology" at the University Hospital Regensburg and moved to the TUM's Klinikum rechts der Isar in 2007 as Professor in the field of "Experimental Radiation Oncology and Radiation Biology". Prof. Multhoff is the founder and managing director of multimmune GmbH. She is a commission member at the German Academic Exchange Service (DAAD) and the EU as well as a member of numerous scientific societies.
Awards
Prof. Peter Vaupel Award, Seoul, Republic of Korea (2018)
CESAR-Prize (2015)
Prof. Milton Yatwin Award, 7th Biennal Conference of IAHOM, New Orleans, USA (2012)
Paula and Richard von Hertwig Award, GSF Helmholtzgemeinschaft (1998)
European Society of Hyperthermic Oncology Award, ESHO-BSD (1996)
Multhoff G, Seier S, Stangl S, Sievert W, Shevtsov M, Werner C, Pockley AG, Blankenstein C, Hildebrandt M, Offner R, Ahrens N, Kokowski K, Hautmann M, Rödel C, Fietkau R, Lubgan D, Huber R, Hautmann H, Duell T, Molls M, Specht H, Haller B, Devecka M, Sauter A, Combs SE: "Targeted Natural Killer Cell-Based Adoptive Immunotherapy for the Treatment of Patients with NSCLC after Radiochemotherapy: A Randomized Phase II Clinical Trial". Clin Cancer Res. 2020; 26(20): 5368-5379.
Abstract
Shevtsov M, Stangl S, Nikolaev B, Yakovleva L, Marchenko Y, Tagaeva R, Sievert W, Pitkin E, Mazur A, Tolstoy P, Galibin O, Ryzhov V, Steiger K, Smirnov O, Khachatryan W, Chester K, Multhoff G: "Granzyme B functionalized nanoparticles targeting membrane Hsp70-positive tumors for multimodal cancer theranostics". Small. 2019; 15(13): e1900205.
Abstract
Stangl S, Tei L, De Rose F, Reder S, Martinelli J, Sievert W, Shevtsov M, Öllinger R, Rad R, Schwaiger M, D`Alessandria C, Multhoff G: "Preclinical evaluation of the Hsp70 peptide tracer TPP-PEG24-DFO[89Zr] for tumor-specific PET/CT imaging". Cancer Res. 2018; 78(21): 6268-6281.
Abstract
Vicencio JM, Yellon DM, Sivaraman V, Das D, Boi-Doku C, Arjun S, Zheng Y, Riquelme JA, Kearney J, Sharma V, Multhoff G, Hall AR, Davidson SM: "Plasma exosomes protect the myocardium from ischemia-reperfusion injury". JACC. 2015; 65(15): 1525-1536.
Abstract
Stangl S, Gehrmann M, Riegger J, Kuhs K, Riederer I, Sievert W, Hube K, Mocikat R, Dressel R, Kremmer E, Pockley AG, Friedrich L, Vigh L, Skerra A, Multhoff G: "Targeting membrane heat-shock protein 70 (Hsp70) on tumors by cmHsp70.1 antibody". PNAS. 2011; 108(2): 733-738.
Abstract