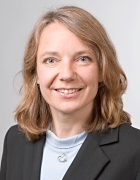 Prof. Dr. Gabriele Multhoff
Academic Career and Research Areas
One of the focus areas of the research work of Professor Multhoff (b. 1961) is the development of innovative immunological prognosis and treatment methods based on heat shock proteins (SFB 824: in vivo imaging). The aim is to use these new therapeutic approaches in combination with conventional radiation therapy in clinical therapies. Her current research work is leading to a randomized clinical phase II study entitled "Targeted NK cell based adjuvant immunotherapy for the treatment of patients with NSCLC after radiochemotherapy" funded by the German Federal Ministry of Education and Research (BMBF). Professor Multhoff's research interests also include the analysis of cellular, molecular biological and immunological mechanisms in normally oxygenated and hypoxic tumor tissue and normal tissue following exposure to radiation.
After studying biology at LMU Munich, Professor Multhoff completed her PhD in 1990 having conducted research work in the field of immunology. While she was working towards her postdoctoral teaching qualification (habilitation), which she acquired in 1998, she was supported by a Möllemann Habilitation grant. In 2002 she became professor of "Experimental Haematology" at the University Clinic in Regensburg before being appointed professor for "Experimental Radiooncology and Radiation Biology" at Klinikum rechts der Isar at TUM in 2007. Professor Multhoff is founder of multimmune GmbH. She is a commissioner of the German Academic Exchange Service (DAAD) and the EU as well as a member of numerous professional and scientific associations.
Awards
Prof. Peter Vaupel Award, Seoul, Republic of Korea (2018)
CESAR-Prize (2015)
Prof. Milton Yatwin Award, 7th Biennal Conference of IAHOM, New Orleans, USA (2012)
Paula and Richard von Hertwig Award, GSF Helmholtzgemeinschaft (1998)
European Society of Hyperthermic Oncology Award, ESHO-BSD (1996)
Key Publications
Stangl S, Tei L, De Rose F, Reder S, Martinelli J, Sievert W, Shevtsov M, Öllinger R, Rad R, Schwaiger M, D`Alessandria C, Multhoff G: "Preclinical evaluation of the Hsp70 peptide tracer TPP-PEG24-DFO[89Zr] for tumor-specific PET/CT imaging". Cancer Res. 2018; 78(21): 6268-6281.
Abstract
Tzoumas S, Nunes A, Olefir I, Stangl S, Symvoulidis P, Glasl S, Bayer C, Multhoff G, Ntziachristos V.: "Eigenspectra optoacustic tomography achieves quantitative blood oxygenation imaging deep in tissues". Nat Commun. 2016; 7: 12121.
Abstract
Vicencio JM, Yellon DM, Sivaraman V, Das D, Boi-Doku C, Arjun S, Zheng Y, Riquelme JA, Kearney J, Sharma V, Multhoff G, Hall AR, Davidson SM: "Plasma exosomes protect the myocardium from ischemia-reperfusion injury". JACC. 2015; 65(15): 1525-1536.
Abstract
Stangl S, Varga J, Freysoldt B, Trajkovic-Arsic M, Siveke JT, Greten FR, Ntziachristos V, Multhoff G: "Selective in vivo Imaging of syngeneic, spontaneous and xenograft tumors using a novel tumor cell-specific Hsp70 peptide-based probe". Cancer Res. 2014; 74(23): 6903-6912.
Abstract
Stangl S, Gehrmann M, Riegger J, Kuhs K, Riederer I, Sievert W, Hube K, Mocikat R, Dressel R, Kremmer E, Pockley AG, Friedrich L, Vigh L, Skerra A, Multhoff G: "Targeting membrane heat-shock protein 70 (Hsp70) on tumors by cmHsp70.1 antibody". PNAS. 2011; 108(2): 733-738.
Abstract