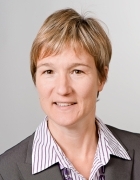 Academic Career and Research Areas
Professor Nerdel (b. 1971) conducts research in two different fields. On the one hand her research deals with models relating to the professional, academic and didactic competences of (trainee) teachers and with increasing these levels of competence by means of innovative pre-service and in-service training concepts. A particular focus of this research is on communication, specialized terminology and the use of multiple external representation (MER) in biology and chemistry teaching. Her other area of expertise is the development and evaluation of concepts for a cross-disciplinary didactics of science at lower and upper secondary school level as a contribution to an innovative university didactics for trainee high school and vocational school teachers.
Professor Nerdel studied biology, chemistry and mathematics in Kiel and earned her doctoral degree in 2003 at the Leibniz Institute for Science Education (IPN) for her work on didactics of biology. From 2000 to 2004 she worked as a scientific staff member in the field of didactics of biology at IPN. In 2004 she assumed an assistant professorship position in didactics of chemistry at the same institute. In 2008 Professor Nerdel assumed the position of professor of didactics of biology at the University of Leipzig before being appointed to the newly established W2 professorship position in didactics of life sciences at TUM School of Education in 2009.
Awards
Sabbatical within the framework of "TUM: Agenda Lehre" (a program aimed at enhancing the quality of degree courses and raising tuition standards) to work on the development of innovative learning resources and exercises for self-study within didactics of science (2013)
von Kotzebue L, Nerdel C: "Professionswissen von Biologielehrkräften zum Umgang mit Diagrammen". Zeitschrift für Didaktik der Naturwissenschaften. 2012; 18: 181-200.
Abstract
Nitz S, Nerdel C, Prechtl H: "Entwicklung eines Erhebungsinstruments zur Erfassung der Verwendung von Fachsprache im Biologieunterricht". Zeitschrift für Didaktik der Naturwissenschaften. 2012; 18: 141-180.
Abstract
Nitz S, Enzingmüller C, Prechtl H, Nerdel C: "Fachsprache im naturwissenschaftlichen Unterricht – eine empirische Untersuchung zur Einstellung angehender Lehrkräfte". Unterrichtswissenschaft. 2011; Heft 3: 245-262.
Abstract
Höffler T, Prechtl H, Nerdel C: "The Influence of Visual and Verbal Learning Preferences when Learning from Instructional Animations and Static Pictures". Learning and Individual Differences. 2010; 20(5): 479–483.
Abstract
Yaman M, Nerdel C, Bayrhuber H: "The effects of instructional support and learner interests when learning using computer simulations". Computers & Education. 2008; 51(4): 1784-1794.
Abstract