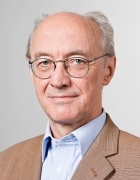 Prof. Dr.-Ing. Winfried Nerdinger
Academic Career and Research Areas
Prof. Nerdinger (b. 1944) studies the recent history of architecture and art. He is particularly interested in classicism and historicism, modern architecture around the world, National Socialist architecture and the rebuilding of Europe after World War II.
After studying architecture at TUM, Prof. Nerdinger obtained his doctorate in Art History. In 1986 he became professor of history of architecture at TUM and in 1989 was appointed Director of TUM's Architekturmuseum. Since 2002, he has been a member of the board of directors of the Pinakothek der Moderne museum in Munich. Since 2004, he has been Director of the Visual Arts section of the Bavarian Academy of Fine Arts. He has worked as a visiting professor in Harvard and Helsinki. Prof. Nerdinger has written over 300 scientific publications, which have been released in 14 languages.
Key Publications
Nerdinger W: 100 Jahre Deutscher Werkbund 1907/2007. München: Prestel, 2007.
Nerdinger W: Ort und Erinnerung. Nationalsozialismus in München. München: Pustet, 2006.
Nerdinger W: Leo von Klenze – Architekt zwischen Kunst und Hof 1784-1964. München: Prestel, 2000.
Nerdinger W: Der Architekt Walter Gropius. Berlin: Gebrüder Mann, 1996.
Nerdinger W: Bauen im Nationalsozialismus – Bayern 1933-1945. München: Prestel, 1993.