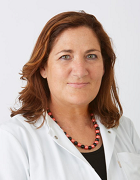 Prof. Dr. Renate Oberhoffer-Fritz
Academic Career and Research Areas
Prof. Oberhoffer's (*1957) areas of research include cardiovascular prevention in healthy and chronically ill children and adolescents, as well as junior competitive athletes. A further area of interest is the fetal programming of cardiovascular diseases and the long-term outcome of congenital, prenatally diagnosed heart defects.
Prof. Oberhoffer studied human medicine at the Johannes Gutenberg University in Mainz, where she also obtained her medical license and doctorate in 1982. She completed her specialist training in pediatric and juvenile medicine (1987), with an additional qualification in pediatric cardiology (1989) at the University Children's Hospitals in Mainz and Ulm. As a DFG Fellow, she conducted research at the National Heart and Lung Institute London, where she completed her post-doctoral teaching qualification (Habilitation) for the University of Ulm (1995). In 1996, she was appointed C3 Professor of Pediatric Cardiology at TUM, founded the Department of Fetal Cardiology and co-founded the Mother-Child Center RDI. She was senior physician at TUM's Children's Hospital and in 2007 at the Clinic for Pediatric Cardiology and Congenital Heart Defects at the German Heart Center Munich. In 2009, she was appointed to the Chair of Preventive Pediatrics at the TUM Department of Sport and Health Sciences.
Awards
Teaching Award: Excellence in teaching in recognition of outstanding achievements in academic teaching and its further development of the Technical University of Munich (2016)
DEGUM Instructor (German Society for Ultrasound in Medicine) Pediatric Sonography (since 1992)
Habilitation scholarship of the DFG (1992-1995)
Fellow of the DFG and the British Council (1988)
Key Publications
Stöcker F, von Oldershausen C, Paternoster FK, Schulz T, Oberhoffer R: "Does postexercise modelled capillary blood flow accurately reflect cardiovascular effects by different exercise intensities?". Clinical Physiology and Functional Imaging. 2018; 38(3): 431-438.
Abstract
Fritsch P, Pozza RD, Ehringer-Schetitska D, Jokinen E, Herceg V, Hidvegi E, Petropoulos A, Oberhoffer R: "Cardiovascular pre-participation screening in young athletes: Recommendations of the Association of European Paediatric Cardiology". Cardiology in the Young. 2018; 28(4): 620.
Abstract
Jantzen DW, Moon-Grady AJ, Morris SA, Armstrong AK, Berg C, Dangel J, Fifer CG, Frommelt M, Gembruch U, Herberg U, Jaeggi E, Kontopoulos EV, Marshall AC, Miller O, Oepkes D, Pedra CA, Pedra SR, Peralta F, Quintero RA, Ryan G, Oberhoffer R, Gelehrter SK: "Hypoplastic Left Heart Syndrome With Intact or Restrictive Atrial Septum: A Report From the International Fetal Cardiac Intervention Registry". Circulation. 2017; 136(14), 1346-1349.
Abstract
Dalla Pozza R, Ehringer-Schetitska D, Fritsch P, Jokinen E, Petropoulos A, Oberhoffer R; Association for European Paediatric Cardiology Working Group Cardiovascular: "Intima media thickness measurement in children: A statement from the Association for European Paediatric Cardiology (AEPC) Working Group on Cardiovascular Prevention endorsed by the Association for European Paediatric Cardiology". Atherosclerosis. 2015; 238(2): 380-387.
Abstract
Vogt M, Muller J, Kuhn A, Elmenhorst J, Muhlbauer F, Oberhoffer R: "Cardiac Adaptation of the Maternal Heart During Pregnancy: A Color-Coded Tissue Doppler Imaging Study--Feasibility, Reproducibility and Course during Pregnancy. Ultraschall Med. 2015; 36(3): 270-275.
Abstract