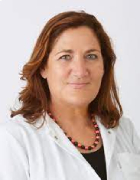 Prof. Dr. Renate Oberhoffer-Fritz
Academic Career and Research Areas
Prof. Oberhoffer-Fritz has held the Chair of Preventive Pediatrics at the Faculty of Sport and Health Sciences at TUM since 2009. She is a specialist in cardiovascular diseases from fetus to young adult in the context of early prevention. Her particular expertise is in fetal cardiology and non-invasive phenotyping of early atherosclerosis and its risk factors in children and adolescents. Based on these findings, she and her research group develop and evaluate intervention programs for chronically ill children, especially those with congenital heart defects and after oncological disease.
After studying human medicine and obtaining her doctorate in Mainz, she completed her residency in pediatric and adolescent medicine at the Olgahospital in Stuttgart and the University Children's Hospital in Mainz. She received her pediatric cardiology training at the University Children's Hospital in Ulm, and as a DFG Research Fellow at the National Heart and Lung Institute, Imperial College London. In 1995 she received her habilitation in pediatrics with a focus on pediatric cardiology in Ulm, and in 1996 she was appointed to the C3 professorship in pediatric cardiology at the Children's Hospital of the TUM. At TUM she became co-founder of the Mother and Child Center RDI, senior physician until 2007, then change to senior physician and since then head of fetal cardiology at the Clinic for Pediatric Cardiology and Congenital Heart Defects of the German Heart Center Munich.
Awards
Teaching Award: Excellence in teaching in recognition of outstanding achievements in academic teaching and its further development of the Technical University of Munich (2016)
DEGUM Instructor (German Society for Ultrasound in Medicine) Pediatric Sonography (since 1992)
Habilitation scholarship of the DFG (1992-1995)
Fellow of the DFG and the British Council (1988)
Key Publications
Semmler, L., Weberruß, H., Baumgartner, L., Pirzer, R., & Oberhoffer-Fritz, R. (2021). Vascular diameter and intima-media thickness to diameter ratio values of the carotid artery in 642 healthy children. Eur J Pediatr, 180(3), 851-860.
Abstract
Budts, W., Pieles, G. E., Roos-Hesselink, J. W., Sanz de la Garza, M., D'Ascenzi, F., Giannakoulas, G., Oberhoffer R.-. . . Papadakis, M. (2020). Recommendations for participation in competitive sport in adolescent and adult athletes with Congenital Heart Disease (CHD): position statement of the Sports Cardiology & Exercise Section of the European Association of Preventive Cardiology (EAPC), the European Society of Cardiology (ESC) Working Group on Adult Congenital Heart Disease and the Sports Cardiology, Physical Activity and Prevention Working Group of the Association for European Paediatric and Congenital Cardiology (AEPC). Eur Heart J, 41(43), 4191-4199.
Abstract
Müller, J., Brudy, L., Meyer, M., Ewert, P., & Oberhoffer, R. (2020). The cardiovascular burden of congenital heart disease - not only in times of COVID-19. Int J Cardiol, 316, 106.
Abstract
Hock, J., Reiner, B., Neidenbach, R. C., Oberhoffer, R., Hager, A., Ewert, P., & Muller, J. (2018). Functional outcome in contemporary children with total cavopulmonary connection - Health-related physical fitness, exercise capacity and health-related quality of life. Int J Cardiol, 255, 50-54.
Abstract
Jantzen, D. W., Moon-Grady, A. J., Morris, S. A., Armstrong, A. K., Berg, C., Dangel, J., Oberhoffer R,. . . Gelehrter, S. K. (2017). Hypoplastic Left Heart Syndrome With Intact or Restrictive Atrial Septum: A Report From the International Fetal Cardiac Intervention Registry. Circulation, 136(14), 1346-1349.
Abstract