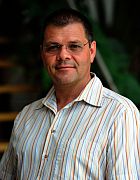 Apl. Prof. Dr. Michael Pfaffl
Academic Career and Research Areas
Prof. Pfaffl's (*1965) field of research is the molecular physiology of animals and humans. Using modern biochemical and molecular biology techniques, experimental research focuses on foundations and innovations in the endocrine and paracrine regulation of human health and animal health & welfare. Besides the traditional signal transmission, the extracellular vesicle biology represent a key aspect of his research. The focus is on the development of nucleic acid-based signatures as biomarkers for non-physiological or pathological conditions.
Prof. Pfaffl started 1986 to study 'Agriculture & Animal Science' and 'Biotechnology' at the Technical University of Munich (TUM). In 1997 he obtained his PhD in the field of molecular muscle and growth physiology at the Chair of Physiology. In June 2003 he completed his Venia Legendi (Dr. habil.) in 'Physiology' at the Center of Life and Food Sciences Weihenstephan. Early 2010 he became Professor of 'Molecular Physiology' at the TUM School of Life Sciences in Freising Weihenstephan.
Awards
Milk Scientific Innovation Award (2019)
TUM Graduate School Weihenstephan - Best PhD Supervisor Award (2018)
SciVerse Scopus Award (2012)
Habilitation Award from the H. Wilhelm Schaumann Foundation (2003)
Pfaffl MW: "A new mathematical model for relative quantification in real-time RT–PCR". Nucleic Acids Research, Oxford University Press. 2001; 29(9): e45-e45.
Abstract
Pfaffl MW; Horgan GW; Dempfle L: "Relative expression software tool (REST©) for group-wise comparison and statistical analysis of relative expression results in real-time PCR". Nucleic Acids Research, Oxford University Press. 2002; 30(9): e36-e36.
Abstract
Bustin SA, Benes V; Garson JA; Hellemans J; Huggett J; Kubista M; Mueller R; Nolan T; Pfaffl M W; Shipley GL: "The MIQE guidelines: minimum information for publication of quantitative real-time PCR experiments". Clinical Chemistry, American Association for Clinical Chemistry. 2009; 55(4): 611-622.
Abstract
Bustin SA, Benes V; Nolan T; Pfaffl MW: "Quantitative real-time RT-PCR - a perspective". Journal of Molecular Endocrinology, BioScientifica. 2005; 34(3): 597-601.
Abstract
Mateescu B; Kowal EJK; ... Pfaffl MW ...: "Obstacles and opportunities in the functional analysis of extracellular vesicle RNA – an ISEV position paper". Journal of extracellular vesicles, Taylor & Francis. 2017; 6(1): 1286095.
Abstract