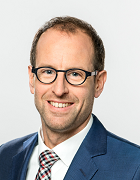 Academic Career and Research Areas
Prof. Pittich (*1981) conducts research on the modelling and diagnostics of competences at different levels, the evidence-based conception and implementation of teaching and learning in technical education, the didactic development of digitalization, Industry 4.0 and learning factories in the field of production technology, as well as on approaches to competence orientation within curricular implementation processes and teacher education in a vocational and technical context.
After his vocational training as a carpenter and vocational secondary schooling with an emphasis on technology, Prof. Pittich earned his Bachelor of Science degree in Technical Education and his Master of Education degree at Leibniz University in Hannover, qualifying him to teach the disciplines of wood technology and mathematics at vocational schools. Later, he worked as an academic research associate in the field of Technical Training and Learning at TU Darmstadt. In 2015, he was awarded a junior professorship of technical education at the University of Siegen. In November 2018, Prof. Pittich was appointed Assistant Professor of Technical Education (Tenure Track) at the TUM School of Education. Since 2021, he has also been a second member of the TUM School of Engineering and Design.
Pittich D, Tenberg R, Lensing K: "Learning factories for complex competence acquisition". European Journal of Engineering Education. 2019.
Abstract
Tenberg R, Bach A, Pittich D: Didaktik technischer Berufe – Band 1: Theorie und Grundlagen. Stuttgart: Steiner Verlag, 2019.
Abstract
Pittich D: "Kompetenz als Zielperspektive technischer Bildung". In: Technikdidaktik: Eine interdisziplinäre Bestandsaufnahme. Editor: Zinn B, Tenberg R, Pittich D. Stuttgart: Steiner Verlag, 2018: 101-114.
Abstract
Pittich D, Weber C, Stojanovic R: "Betriebliches Kompetenzmanagement im Kontext des demografischen Wandels – Konzept und erste Befunde". Journal of Technical Education (JOTED). 2016; 4(1): 45-63.
Abstract
Pittich D: Diagnostik fachlich-methodischer Kompetenzen. Stuttgart: IRB Verlag, 2013.
Abstract