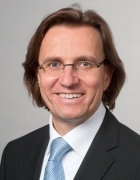 Prof. Dr. Frank-Martin Belz
Academic Career and Research Areas
Frank-Martin Belz (*1966) is full professor of corporate sustainability at the TUM School of Management. Furthermore, he is Director of the TUM SEED Center, a Center of Excellence, which is international und interdisciplinary. The focus of his research and teaching is on sustainable entrepreneurship.
After the studies of business administration at the university of Mannheim (1990) Frank-Martin Belz did his doctoral and post-doctoral studies at the University of St. Gallen in Switzerland. Extensive research stays and sabbaticals took him to Gothenburg/Sweden (1997), Boston/USA (2001), Toronto/Canada (2009) and Helsinki/Finland (2014).
Awards
"Best Text Book of the Year 2010", awarded by the German Academic Association of der Business Research (VHB) for the text book "Sustainability Marketing: A Global Perspective" (written by Frank-Martin Belz and Ken Peattie) (2010)
Belz, FM, Binder, JK. 2017: Sustainable Entrepreneurship: A Convergent Process Model. Business Strategy and the Environment, 26(1): 1-17.
Abstract
Hertel CJ, Bacq S, Belz, FM It Takes a Village to Sustain a Village. 2019. A Social Identity Perspective on Successful Community-Based Enterprise Creation. Academy of Management Discoveries, 5(4): 438-464.
Abstract