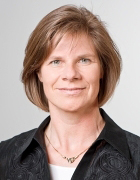 Academic Career and Research Areas
Professor Protzer (b. 1962) works on the virus-host-interaction of the hepatitis B virus. Her research is aimed at advancing our understanding of the molecular and immunological mechanisms of virus control. Together with her work group, she utilizes the knowledge thus gained to develop new therapeutic approaches for the treatment of chronic hepatitis B and of secondary diseases resulting from the virus.
Professor Protzer studied medicine at the universities of Erlangen, Basel, and Durban (South Africa) and obtained her doctorate in Erlangen in 1989. After further training in gastroenterology and infectiology in Frankfurt and Mainz, she acquired the specialist qualifications for internal medicine in 1996. She spent a postdoctoral period at the Center for Molecular Biology in Heidelberg from 1996 to 2000 and completed her postdoctoral teaching qualification in virology in 2000. She then embarked upon a second course of clinical training as a specialist in microbiology, virology and infection epidemology (2005). From 2002 to 2007 she led a junior research group at the University of Cologne's Center for Molecular Medicine. In late 2007 she was appointed to the Chair of Virology at TUM and has since then been director of the Institute of Virology at the Technical University of Munich and at the German Research Center for Environmental Health, Helmholtz Zentrum München.
Key Publications
Burwitz BJ, Wettengel J, Mück-Häusl M, Ringelhan M, Ko C, Festag MM, Hammond KB, Northrup M, Bimber BN, Jacob T, Reed JS, Reed N, Park B, Moller-Tank S, Esser K, Greene JM, Wu HL, Abdulhaqq S, Webb G, Sutton WF, Klug A, Swanson T, Legasse AW, Vu TQ, Asokan A, Haigwood NL, Protzer U, Sacha J: "Hepatocytic Expression of Human Sodium-Taurocholate Cotransporting Polypeptide Enables Hepatitis B Virus Infection of Macaques". Nature Communications. 2017; 8(1): 2146.
Abstract
Xia Y, Stadler D, Lucifora J, Reisinger F, Webb D, Hösel M, Michler T, Wisskirchen K, Cheng X, Zhang K, Chao W-M, Wettengel J, Malo A, Bohne F, Hoffmann D, Eyer F, Thimme R, Thasler WE, Heikenwalder M, Protzer U: "Interferon-γ and Tumor Necrosis Factor-α Produced by T cells Reduce the HBV Persistence Form, cccDNA, Without Cytolysis". Gastroenterology. 2016; 150(1): 194-202.
Abstract
Lucifora J, Xia Y, Reisinger F, Zhang K, Stadler D, Cheng X, Sprinzl M, Koppensteiner H, Li Y, Makowska Z, Volz T, Remouchamps C, Chou W-M, Thasler W, Hüser N, Durantel D, Münk C, Heim MH, Browning JL, Dejardin E, Dandri M, Schindler M, Heikenwalder M, Protzer U: "Specific and non-hepatotoxic degradation of nuclear hepatitis B virus cccDNA". Science. 2014; 343(6176): 1221-1228.
Abstract
Krebs K, Böttinger N, Huang LR, Chmielewski M, Arzberger S, Gasteiger G, Jäger C, Schmitt E, Bohne F, Aichler M, Uckert W, Abken H, Heikenwalder M, Knolle P, Protzer U: "T cells expressing a chimeric antigen receptor that binds hepatitis B virus envelope proteins control virus replication in mice". Gastroenterology. 2013; 145(2): 456-465.
Abstract
Protzer U, Maini M, Knolle P: "Living in the Liver". Nature Reviews in Immunology. 2012; 12(3): 201-213.
Abstract