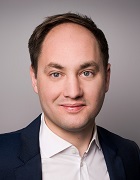 Academic Career and Research Areas
Prof. Putz (*1981) is interested in the processes of observing, recording, and maintaining recent building heritage.
Andreas Putz studied architecture at the TU Dresden, the University of Edinburgh, and ETH Zürich. After graduating, he was employed as an architect first in Basel and later in Dresden. From 2009 onwards he was in charge of the conversion of Erich Mendelsohn's former Schocken department store in Chemnitz. He moved to the Institute of Historic Building Research and Conservation at ETH Zürich to work as a research assistant. Here, he completed his doctoral thesis in 2015. Alongside his freelance work as a registered architect, he has worked as a research associate at IRS, Erkner/Berlin, and as a postdoctoral researcher at the Institute for the History and Theory of Architecture (gta), ETH Zürich. Andreas Putz was appointed Professor of Recent Building Heritage Conservation at the Technical University of Munich in 2018 and has been tenured as Associate Professor in 2023.
He is a member of the board of the Arbeitskreis Theorie und Lehre der Denkmalpflege (AKTLD), member of the Koldewey-Gesellschaft and the German National Committee of ICOMOS, and, among others, in the ICOMOS Monitoring Group for the UNESCO World Heritage Site The Bauhaus and its Sites in Weimar, Dessau and Bernau and the UNESCO World Heritage Site Fagus Factory in Alfeld. Since 2022, Putz has been a member of the international scientific advisory board of the Leibniz Research Network "Value of the Past".
Key Publications
Putz, Andreas: Architektur. In: Martin Sabrow, Achim Saupe (Hrsg.): Handbuch Historische Authentizität. Göttingen: Wallstein Verlag, 2022, 17–25.
Abstract
Fauerbach, Ulrike; Putz, Andreas: « Bauforschung » Today : Current Tendencies in Building Archaeology in Germany / « Bauforschung » aujourd'hui : tendances actuelles de l'archéologie du bâti en Allemagne. In: Sapin, Christian et al. (Hrsg.): Archéologie du bâti. Aujourd'hui et demain : Actes du colloque ABAD, Auxerre, 10-12 octobre 2019. Nouvelle édition [en ligne]. Dijon: ARTEHIS Éditions 2022.
Abstract
Grom, Rouven; Putz, Andreas: The 1968 Integrated Facade System by Josef Gartner. In: History of Construction Cultures, Proceedings of the 7th International Congress on Construction History (7ICCH 2021), CRC Press, 2021, 300-305.
Abstract
Putz A: "Housing Paul and Paula: Building Repair and Urban Renewal in the German Democratic Republic". Architectural Histories. 2019; 7 (1).
Abstract
Putz A: "Der Bestand der Stadt. Leitbilder und Praktiken der Erhaltung, Zürich 1930–1970." Dissertation ETH Zürich, 2015.
Abstract