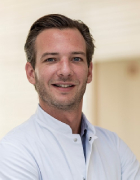 Prof. Dr. Maximilian Reichert
Awards
Elected expert of UNCAN ("A European initiative to UNderstand CANcer") (2023)
Prix Forcheurs Jean-Marie Lehn Inauguration Award, German and French Academy of Sciences (2017)
Max-Eder Group Leader Fellowship of the German Cancer Aid (Deutsche Krebshilfe e.V.) (2015)
Scholar-in-Training Award by the American Association of Cancer Research (AACR), USA (2014)
Recipient of the Postdoctoral Fellowship of the National Pancreas Foundation (NPF), USA (2009)
Key Publications
Randriamanantsoa S, …, Reichert M. Spatiotemporal dynamics of self-organised branching pancreatic cancer-derived organoids. Nat Commun. 13, 5219 (2022).
Abstract
Peschke K, …, Reichert M. Identification of treatment-induced vulnerabilities in pancreatic cancer patients using functional model systems. EMBO Mol Med. 2022 Feb 4:e14876.
Abstract
Feldmann K, …, Reichert M. Mesenchymal Plasticity Regulated by Prrx1 Drives Aggressive Pancreatic Cancer Biology. Gastroenterology. 2021 Jan;160(1):346-361.e24.
Abstract
Reichert M, et al. Regulation of Epithelial Plasticity Determines Metastatic Organotropism in Pancreatic Cancer. Dev Cell. 2018 Jun 18;45(6):696-711.e8.
Abstract
Reichert M, Takano S, Heeg S, Bakir B, Botta GP, Rustgi AK Gregory P. Botta, Anil K. Rustgi. Isolating Murine Pancreatic Ductal Cells using Magnetic Beads in Development, Regeneration and Cancer, Nature Protocols, 2013 Jun 20;8(7):1354-65.
Abstract