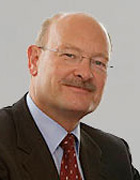 Prof. Dr.-Ing. Gunther Reinhart
Academic Career and Research Areas
Prof. Dr.-Ing. Gunther Reinhart's Chair conducts research into assembly technology, automation and robotics as well as production management and logistics.
He studied mechanical engineering (specializing in design & development) at TUM until 1982. In 1987, he did his doctorate at TUM's Institute for Machine Tools and Industrial Management (iwb) under Prof. Dr.-Ing. J. Milberg. From 1988 to 1993, he worked at BMW AG, initially as head of the joining and handling development department and subsequently as director of the body paint shop in Munich. In 1993, Prof. Reinhart was appointed director of the iwb. From March 2002 to February 2007, he took a sabbatical to become the board member with responsibility for technology and marketing at IWKA AG in Karlsruhe. Since 2007, he and Prof. Dr.-Ing. Michael Zäh have served as co-directors of the iwb at Garching and Augsburg. Since January 1, 2009, he has been Head of the Fraunhofer Research Institution for Casting, Composite and Processing Technology (IGCV) in Augsburg.
Awards
European Industrial Ethernet Award (2010)
Otto-Kienzle-Gedenkmünze der Wissenschaftlichen Gesellschaft für Produktionstechnik (WGP) (1991)
Key Publications
Zaeh MF, Reinhart G, Ostgathe M, Geiger F, Lau C: "A holistic approach for the cognitive control of production systems". Advanced Engineering Informatics. 2010; 24(3): 300–307.
Abstract
Reinhart G, Lacour FF: "Physically based Virtual Commissioning of Material Flow Intensive Manufacturing Plants". In: 3rd International Conferece on Changeable, Agile, Reconfigurable and Virtual Production(CARV), München. Editor: Zäh MF. 2009: 377-387.
Reinhart G, Tekouo W: "Automatic programming of robot-mounted 3D optical scanning devices to easily measure parts in high-variant assembly". CIRP Annals - Manufacturing Technlogy. 2009; 58(1): 25-28.
Abstract
Reinhart G, Loy M: "Flexible Feeding of Complex Parts". 2nd CIRP Conference on Assembly Technologies and Systems, Toronto / Kanada. 2008.
Krebs P, Müller N, Schellmann H, Reinhardt S, von Bredow M, Reinhart G, "Ganzheitliche Risikobewertung für produzierender Unternehmen". ZWF Zeitschrift für wirtschaftlichen Fabrikbetrieb. 2009; 104 (3): 174–180.