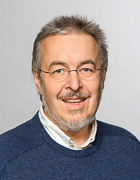 Prof. Dr. Dr. Jürgen Richter-Gebert
Academic Career and Research Areas
The research activities of Prof. Richter-Gebert (b. 1963) cover combinatorial and computer-oriented geometry. As well as his work in the field of polytope theory, his particular interest lies in computerized structuring of geometry. He develops processes for the automatic generation of geometric problem solutions and works on the implementation of mathematical visualization software. He is also actively involved in raising the public profile of mathematics. Prof. Richter-Gebert is the founder and Director of the ix-quadrat mathematics exhibition at the Garching Campus.
Prof. Richter-Gebert studied mathematics at TU Darmstadt and did his doctorate in 1992 at both TU Darmstadt and KTH Stockholm. After working for two years in the industry at research and development labs, he did his lecturer qualification in 1995 at TU Berlin. From 1997 to 2001, he held the position of assistant professor of theoretical computer science at the Swiss Federal Institute of Technology Zurich. In 2001, he was appointed full professor of geometry and visualization at TUM.
Richter-Gebert J: Perspectives on Projective Geometry. Berlin: Springer, 2011.
Abstract
Richter-Gebert J, Orendt Th: Geometriekalküle. Berlin: Springer, 2009.
Abstract
Richter-Gebert J: "Meditations on Cevas Theorem". In: The Coxeter Legacy: Reflections and Projections. Editors: Davis C, Ellers E. 2006; 227-254.
Abstract
Kortenkamp U, Richter-Gebert J: "Complexity issues in dynamic geometry". In Festschrift in the honor of Stephen Smale's 70th birthday. Editors: Rojas M, Cucker F. World Scientific, 2002: 355–404.
Abstract
Richter-Gebert J: Realization Spaces of Polyopes. Lecture Notes in Mathematics, Vol 1643. Berlin: Springer, 1996.
Abstract