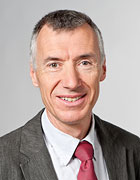 Academic Career and Research Areas
Prof. Richter conducts R+D and knowledge transfer in wood science and wood industry. His focus in wood material science is to elucidate structure-property relationships of wood matrix polymers and technical polymers to improve e.g. adhesion, coating and modification technologies. In environmental sciences, he analyses the sustainability of processes and products of wood and building industries and their resource efficiency, e.g. by modelling and transforming cascading and end-of-life processes.
Richter studied wood science at the University of Hamburg and received his doctoral degree within the scope of a DFG-research project about dendroclimatology at the Iberian Peninsula. As a research scientist at Empa (Swiss Federal Lab for Material Science and Technology, CH), he spent a post-doc year at the Forest Products Lab in Madison, USA. In 2003, he became head of Empa´s Wood Lab and lecturer at ETH Zurich. In April 2011, he was appointed professor at the Chair of Wood Science and, in 2012, head of TUM's wood research laboratory.
Awards
Joseph-Umdasch Research Prize (2006)
Swiss Federal Office of Environment, Holz 21 New Horizons-Innovation pool. Research award: Improved acoustic properties of sound wood (team award with 2 coworkers (2006)
Collano Innovation Prize (2004)
George G. Marra Award for excellence in research and writing (1996)
Wilhelm Klauditz-Prize for Wood Research and Environmental Protection, awarded by International Association for Technical Issues Related to Wood (1992)
Živković V, Arnold M, Pandey KK, Richter K, Turkulin H: "Spectral sensitivity in the photodegradation of fir wood (Abies alba Mill.) surfaces: correspondence of physical and chemical changes in natural weathering". Wood Science and Technology. 2016; 50(5): 989-1002.
Abstract
Höglmeier K, Streubing B, Weber-Blaschke G, Richter K: "LCA-based optimization of wood utilization under special consideration of a cascading use of wood". Journal of Environmental Management. 2015; 152: 158-170.
Abstract
Höglmeier K, Weber-Blaschke G, Richter K: "Potentials for cascading of recovered wood from building deconstruction - A case study for south-east Germany." Resources, Conservation and Recycling. 2013; 78: 81-91.
Abstract
López-Suevos F, Eyholzer C, Bordeanu N, Richter K: "DMA Analysis and Wood Bonding of PVAc Latex Reinforced with Cellulose Nanofibrils". Cellulose. 2010; 17(2): 387-398.
Abstract
Werner F, Taverna R, Hofer P, Richter K: "Greenhouse gas dynamics of an increased use of wood in buildings in Switzerland". Climatic Change. 2006; 74(1): 319-347.
Abstract