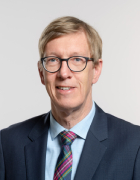 Prof. Dr. Matthias Richter
Academic Career and Research Areas
Prof. Richter (*1971) academic focus is the interface between society and health. His research interests include the social, political and economic determinants of health and health care across the life course as well as young people's health and health behaviour. The combination of quantitative and qualitative research methods and the interdisciplinary dialog between social science and clinical research is an inherent part of his work.
Prof. Richter studied Sociology and Psychology at Bielefeld University. After his PhD in Sociology he worked as Managing Director of the WHO CC for Child and Adolescent Health Promotion. Following his habilitation, he moved to the Institute of Social and Preventive Medicine (University of Bern) as Associate Professor. Since 2011, he was Full Professor and Director of the Institute for Medical Sociology at the University of Halle-Wittenberg. In 2022, Prof. Richter was appointed as Chair for Social Determinants of Health at TUM.
Awards
"@ward – Award for multimedia teaching and learning", Martin-Luther-Universität Halle-Wittenberg (2017)
"Most Cited Article" Award (2007-2011) in Social Science & Medicine (2012)
Appointed member of the young researcher network of the Centre for Interdisciplinary Research (ZIF), University of Bielefeld (2006)
Award of the German Society of Medical Sociology (DGMS) for outstanding young researcher (2006)
Award for best Diploma thesis, Faculty of Sociology (Universität Bielefeld) (2000)
Mlinarić M, Hoffmann L, Lindfors P, Richter M (2020). Enhancing implementation of smoke-free places: A comparative qualitative study across seven European cities. Social Science & Medicine, 247, 112805.
Abstract
Richter M, Hurrelmann K (eds.) (2016). Soziologie von Gesundheit und Krankheit. Ein Lehrbuch. [Sociology of health and illness. A textbook]. Wiesbaden: Springer VS
Abstract
Lampert L, Richter M, Schneider S, Spallek J, Dragano N (2016). [Social inequality and health : Status and prospects of socio-epidemiological research in Germany]. Bundesgesundheitsblatt Gesundheitsforschung Gesundheitsschutz, 59(2): 153-165.
Abstract
Richter M, Moor I, van Lenthe F (2012). Explaining socioeconomic differences in adolescent self-rated health: The contribution of material, psychosocial and behavioural factors. Journal of Epidemiology and Community Health, 66(8): 691-697.
Abstract
Currie C, Molcho M, Boyce W, Holstein B, Torsheim T, Richter M (2008). Researching health inequalities in adolescence: the development of the HBSC Family Affluence Scale. Social Science & Medicine, 66: 1429-1436.
Abstract