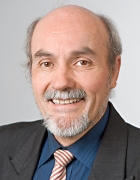 Academic Career and Research Areas
Professor Ring (b. 1945) has been director of the Department of Dermatology and Allergy, Biederstein, Munich, since 1995. His major area of expertise is allergic and inflammatory skin disease. Together with Professor Heidrun Behrendt he founded ZAUM – Centre for Allergy and the Environment. In his role as dean of studies, he has formatively shaped medical training and education. He has also set up successful education program for patients suffering from neurodermitis and anaphylaxis and organized various large international conferences in Munich, including the Eur Derma Congr 2001 (6,000 participants) and World Allergy Congress 2005 (7,000 participants).
Having worked for seven years in the field of experimental immunology (W. Brendel) and allergology, in 1978 Professor Ring changed his focus to dermatology (O.Braun-Falco). Between 1990 and 1995 he was director of the Department of Dermatology and Allergy at the University Hospital Hamburg-Eppendorf. Professor Ring is on the board of several major professional associations. He is president of the German Society for Allergy and Clinical Immunology (DGAKI), the European Academy Dermatology and Venerology (EADV) and the Collegium Internationale Allergologicum (CIA). He is vice president of the World Allergy Organization (WAO).
Key Publications
Traidl-Hoffmann C, Mariani V, Hochrein H, Karg K, Wagner H, Ring J, Mueller MJ, Jakob T, and Behrendt H: "Pollen-associated phytoprostanes inhibit dendritic cell interleukin-12 production and augment T helper type 2 cell polarization". J Exp Med. 2005; 201: 627–636.
Abstract
Ring J: Angewandte Allergologie. 3. Aufl. München: Urban und Vogel, 2004.
Plötz SG, Simon HU, Darsow U, Simon D, Vassina E, Yousefi S, Hein R, Smith T, Behrendt H, Ring J: "Use of an anti-interleukin-5 antibody in the hypereosinophilic syndrome with eosinophilic dermatitis". N. Engl. J. Med. 2003; 349: 2334-2339.
Abstract
Ring J, Messmer K : "Incidence and severity of anaphylactoid reactions to colloid vol-ume substitutes". Lancet. 1977; 1: 466-469.
Abstract
Seifert J, Ring J, Brendel W: "Prolongation of skin allo- grafts after oral application of antilymphocyte serum in rats". Nature. 1975 ; 249 : 776.