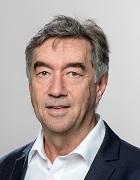 Prof. Dr. Peter Rutschmann
Academic Career and Research Areas
The primary focus of the research group of Professor Rutschmann (b. 1954) and the affiliated Oskar von Miller Research Laboratory, a hydraulic engineering research institute in Obernach in Bavaria, Germany, is on teaching and carrying out research in the field of current and emerging hydraulic engineering technologies and water management. His particular interests lie in water power, flood prevention, flow morphology issues and environmental hydraulics. Research is conducted using hydraulic models as well as complex coupled three-dimensional flow programs. Hybrid modeling which utilizes both approaches simultaneously is also used.
Professor Rutschmann studied and received his doctorate at ETH Zurich (1988) where he subsequently carried out applied research for over twenty years. In 2002 he was appointed professor of hydraulics, hydrology and experimental hydraulic engineering at Innsbruck, where he headed the Institute of Hydraulic Engineering. Professor Rutschmann has been a professor at TUM since 2007. He invented the "shaft power plant I" design which was patented in 2010.
Awards
Advisory Board Member, DWA Landesverband Bayern (since 2009)
Vice President, Österreichische Gesellschaft für Hydrologie (until 2008)
Anh DT, Bui MD, Rutschmann P: "Simulating Future Flows and Salinity Intrusion Using Combined One- and Two-Dimensional Hydrodynamic Modelling – The Case of Hau River, Vietnamese Mekong Delta". Water. 2018; 10 (7): 897.
Abstract
Geiger F, Cuchet M, Rutschmann P: "Experimental investigation of fish downstream passage and turbine related fish mortality at an innovative hydropower setup". La Houille Blanche. 2016; 6: 44-47.
Abstract
Skublics D, Blöschl G, Rutschmann P: "Effect of river training on flood retention of the Bavarian Danube". Journal of Hydrology and Hydromechanics. 2016; 64 (4): 349–356.
Abstract
Walters E, Schwarzwälder K, Rutschmann P, Müller E, Horn H:"Influence of resuspension on the fate of fecal indicator bacteria in large-scale flumes mimicking an oligotrophic river". Water Research. 2014; 48: 466-477.
Abstract
Rutschmann P, Sepp A, Geiger F, Barbier J: "A new take on hydro power design". International Water Power & Dam Construction. 2011; 63: 22-25.
Abstract