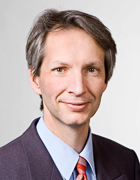 Prof. Dr. Michael Rychlik
Academic Career and Research Areas
Prof. Rychlik (b. 1964) develops analysis methods for physiologically active foodstuff ingredients such as mycotoxins, vitamins and odorants. In order to assess their biological activity, these substances and their metabolic products are examined in human, animal and plant testing. This provides information on bioavailability (e.g. of vitamins belonging to the folate group), toxicity (e.g. consumer exposure to mycotoxins deoxynivalenol and Tenuazonic acid) or the positive effects of odorants (e.g. 8-Prenylnaringenin).
Prof. Rychlik studied food chemistry at Kaiserslautern and completed his second state examination in 1989. After his doctorate at TUM (1996), he worked as a postdoc at TUM's Chair of Food Chemistry. He acquired his postdoctoral teaching qualification (habilitation) in 2003 about stable isotope dilution assays and declined offers for professorships from Bonn and Gießen. Prof. Rychlik heads the Chair of Analytical Food Chemistry and is managing director of the Research Department for Nutrition and Food Science at the TUM School of Life Sciences Weihenstephan. He furthermore is an honorary professor at the University of Queensland, Australia, and was a visiting professor to the National University of Singapore.
Awards
Kurt Täufel-Preis für Lebensmittelchemiker (2007)
Wiss. Förderpreis der Deutschen Großbäckereien (1997)
Habler K, Rychlik M: "Multi-mycotoxin Stable Isotope Dilution LC-MS/MS Method for Fusarium Toxins in Cereals". Analytical and Bioanalytical Chemistry, 2016; 408: 307-317.
Abstract
Mönch S, Netzel M, Netzel G, Ott U, Frank T, Rychlik M: "Folate Bioavailability from Foods Rich in Folates Assessed in a Short Term Human Study Using Stable Isotope Dilution Assays". Food & Function. 2015; 6: 241 – 247.
Abstract
Rychlik M, Humpf H-U, Marko D, Dänicke S, Mally A, Berthiller F, Klaffke H, Lorenz N: "Proposal of a comprehensive definition of modified and other forms of mycotoxins including 'masked' mycotoxins". Mycotoxin Research. 2014; 30: 197-205.
Abstract
Rychlik M: Fortified foods with vitamins. Analytical concepts to assure better and safer products. 1. Ed. Weinheim: Wiley-VCH, 2011.
Abstract
Rychlik M, Asam S: "Stable isotope dilution assays in mycotoxin analysis". Analytical and Bioanalytical Chemistry. 2008; 390(2): 617-628.
Abstract