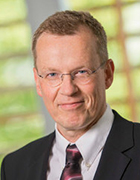 Prof. Dr. Michael Sattler
Academic Career and Research Areas
The research of Prof. Sattler (b. 1965) focuses on the development and application of biomolecular nuclear magnetic resonance (NMR) spectroscopy. The aim is to describe the structure, dynamics and molecular interactions of biological macromolecules (proteins, RNAs with each other and with small molecules and drug-like compounds). This should provide a better understanding of the basic molecular mechanisms of fundamental biological processes and disease pathways.
After studying chemistry and completing his doctorate (1995) at J.W. Goethe University in Frankfurt, Prof. Sattler went to Chicago to do research under Dr. Stephen W. Fesik (Abbott Laboratories). In 1997, he became group leader at the European Laboratory for Molecular Biology (EMBL) in Heidelberg. Since 2007, he has been full professor at TUM's chemistry department in Garching. Prof. Sattler is also Director of the Institute of Structural Biology at Helmholtz Zentrum München and Director of the Bavarian NMR Center.
Awards
The Stifterverband Science Award – Erwin Schrödinger Prize (2020)
Elected Member of the Leopoldina, German National Academy of Sciences (2017)
Elected Member of the European Molecular Biology Organization (EMBO) (2012)
Hennig J, Militti C, Popowicz GM, Wang I, Sonntag M, Geerlof A, Gabel F, Gebauer F, Sattler M: "Structural basis for the assembly of the Sxl–UNR translation regulatory complex". Nature. 2014; 515: 287-90.
Abstract
Mackereth CD, Madl T, Bonnal S, Simon B, Zanier K, Gasch A, Rybin V, Valcarcel J, Sattler M: "Multi-domain conformational selection underlies pre-mRNA splicing regulation by U2AF". Nature. 2011; 475(7356): 408-411.
Abstract
Corsini L, Bonnal S, Basquin J, Hothorn M, Scheffzek K, Valcarcel J, Sattler M: "U2AF Homology Motif interactions are required for alternative splicing regulation by SPF45". Nat. Struct. Mol. Biol. 2007; 14: 620-9.
Abstract
Lingel A, Simon B, Izaurralde E, and Sattler M: "Structure and nucleic-acid binding of the Drosophila Argonaute 2 PAZ domain". Nature. 2003; 426: 465-9.
Abstract
Liu Z, Luyten I, Bottomley MJ, Messias AC, Houngninou-Molango S, Sprangers R, Zanier K, Krämer A, Sattler M: "Structural basis for recognition of the intron branch site RNA by splicing factor 1". Science. 2001; 294: 1098-102.
Abstract