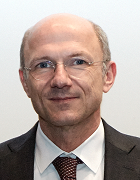 Academic Career and Research Areas
Professor Saur (b. 1968) is a gastroenterologist and oncologist. He explores novel ways of targeting solid tumors with greater efficiency in order to improve the prognosis of cancer patients. He and his team investigate how tumors progress using genetically engineered models of cancer that simulate important characteristics of the human disease. The aim of this research is to achieve a mechanistic understanding of how tumor cells interact with their microenvironment and on this basis to develop new therapeutic strategies.
Professor Saur studied medicine at TUM and obtained his doctorate in neurogastroenterology. He completed his clinical training at TUM's University Hospital rechts der Isar, qualifying as a specialist in internal medicine and gastroenterology in 2007. In the same year, he was appointed senior physician and lecturer. In 2017 he was appointed Professor of Translational Cancer Research and Director of the Institute of Experimental Cancer Therapy at TUM, and Head of the Division of Translational Cancer Research at the German Cancer Research Center (DKFZ).
Awards
ERC Consolidator Grant (2015)
Honorary Fellow and Member TUM Institute for Advanced Studies (2015)
Martin-Wienbeck-Award, Wienbeck Foundation for Medical Development (2014)
AIO Translational Cancer Research Award (2013) •
Rising Star Award, United European Gastroenterology Federation (2006)
Mueller S, Engleitner T, Maresch R, Zukowska M, Lange S, Kaltenbacher T, Konukiewitz B, Öllinger R, Zwiebel M, Strong A, Yen HY, Banerjee R, Louzada S, Fu B, Seidler B, Götzfried J, Schuck K, Hassan Z, Arbeiter A, Schönhuber N, Klein S, Veltkamp C, Friedrich M, Rad L, Barenboim M, Ziegenhain C, Hess J, Dovey OM, Eser S, Parekh S, Constantino-Casas F, de la Rosa J, Sierra MI, Fraga M, Mayerle J, Klöppel G, Cadiñanos J, Liu P, Vassiliou G, Weichert W, Steiger K, Enard W, Schmid RM, Yang F, Unger K, Schneider G, Varela I, Bradley A, Saur D, Rad R: "Evolutionary routes and KRAS dosage define pancreatic cancer phenotypes". Nature 2018; 554 (7690):62-68.
Abstract
Schneider G, Schmidt-Supprian M, Rad R, Saur D: "Tissue-specific tumorigenesis: context matters". Nature Reviews Cancer. 2017; 17 (4): 239-253.
Abstract
Schönhuber N, Seidler B, Schuck K, Veltkamp C, Schachtler C, Zukowska M, Eser S, Feyerabend TB, Paul MC, Eser P, Klein S, Lowy AM, Banerjee R, Yang F, Lee CL, Moding EJ, Kirsch DG, Scheideler A, Alessi DR, Varela I, Bradley A, Kind A, Schnieke AE, Rodewald HR, Rad R, Schmid RM, Schneider G, Saur D: "A next-generation dual-recombinase system for time- and host-specific targeting of pancreatic cancer". Nature Medicine. 2014; 20 (11):1340-1347
Abstract
Eser S, Reiff N, Messer M, Seidler B, Gottschalk K, Dobler M, Hieber M, Arbeiter A, Klein S, Kong B, Michalski CW, Schlitter AM, Esposito I, Kind AJ, Rad L, Schnieke AE, Baccarini M, Alessi DR, Rad R, Schmid RM, Schneider G, Saur D: "Selective requirement of PI3K/PDK1 signaling for Kras oncogene-driven pancreatic cell plasticity and cancer". Cancer Cell. 2013; 23 (3):406-420
Abstract
Rad R, Cadiñanos J, Rad L, Strong A, Varela I, Krieg L, Constantino-Casas F, Eser S, Hieber M, Seidler B, Price S, Hoffman G, Fraga MF, Calvanese V, Schneider G, Yusa K, Grove C, Wang W, Schmid RM, McDermott U, Kirchner T, Liu P, Vassiliou G, Saur D*, Bradley A: "A genetic progression model of BrafV600E-induced intestinal tumourigenesis reveals targets for therapeutic intervention". Cancer Cell. 2013; 24 (1):15-29.
Abstract