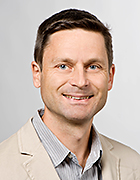 Academic Career and Research Areas
The research group of Professor Schaefer (b. 1975) combines field ecology, biogeography, molecular phylogenetics and systematics to understand the origin and evolution of plant diversity and communities. We try to find answers to fundamental questions about the processes of speciation and community assembly: Is diversity a driver of speciation or an impediment? Does specialization through mutualisms or habitat increase or decrease extinction risk? Is community assembly on oceanic islands random or dependent on the existing species? This information is crucial in finding solutions for the management and conservation of ecosystems in our rapidly changing world.
Professor Schaefer studied biology at the Universities of Wuerzburg and Regensburg (Germany) and did his PhD on the flora of the Azores archipelago with Peter Schoenfelder (2000 – 2003). He then moved on to Susanne Renner's lab at LMU Munich (2004 – 2008). This was followed by a Marie Curie fellowship at Imperial College London, Silwood Park (2008 – 2010) and two years in the lab of Charles C. Davis at Harvard University (2010 – 2012). He was appointed to a post at TUM in 2012.
Key Publications
Endl J, Achigan-Dako E, Pandey AK, Monforte AJ, Pico B, Schaefer H: "Repeated domestication of melon (Cucumis melo) in Africa and Asia and a new close relative from India". American Journal of Botany. 2018; 105(10): 1662-1671.
Abstract
Schaefer H, Hechenleitner P, Santos-Guerra A, Menezes de Sequeira M, Pennington RT, Kenicer G, Carine MA: "Systematics, biogeography, and character evolution of the legume tribe Fabeae with special focus on the middle-Atlantic island lineages". BMC Evolutionary Biology. 2012; 12: 250.
Abstract
Grass Phylogeny Working Group II (Aliscioni S, Bell HL, Besnard G, Christin P-A, Columbus JT, Duvall MR, Edwards EJ, Giussani L, Hasenstab-Lehman K, Hilu KW, Hodkinson TR, Ingram AL, Kellogg EA, Mashayekhi S, Morrone O, Osborne CP, Salamin N, Schaefer H, Spriggs E, Smith SA, Zuloaga F): "New grass phylogeny resolves deep evolutionary relationships and discovers C4 origins". New Phytologist. 2012; 193(2): 304-312.
Abstract
Schaefer H, Hardy OJ, Silva LF, Barraclough TG, Savolainen V: "Testing Darwin's naturalization hypothesis in the Azores". Ecology Letters. 2011; 14(4): 389-396.
Abstract
Schaefer H, Renner SS: "Phylogenetic relationships in the order Cucurbitales and a new classification of the gourd family (Cucurbitaceae)". Taxon. 2011; 60(1): 122-138.
Abstract