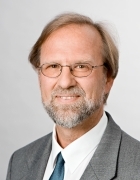 Prof. Dr. Siegfried Scherer
Academic Career and Research Areas
Prof. Scherer (b. 1955) conducts research into molecular ecology of food-borne bacterial pathogens and evolutionary biology. The Chair's research groups recently investigated the pathogenic bacteria Pseudomonas aeruginosa and pathogenic Escherichia coli, especially enterohemorrhagic EHEC strains. In application-oriented projects, he explores the characterization of the biodiversity of microbial populations in industrial habitats. Basic research deals with the de novo evolution of protein coding genes via overlapping encoding and well as the description of novel bacterial taxa.
After studying biology, chemistry and physics, Prof. Scherer did his doctorate at the University of Konstanz (1983). He completed his lecturer qualification there in plant physiology and microbial ecology (1991). Research work took him to the Chinese Academy of Science (1986) and VirginiaTech in Blacksburg, USA (1988-89). In 1991, he became an associate professor at TUM. He declined a professorship at the University of Veterinary Medicine in Vienna in 2002. In 2003, he was appointed to the Chair of Microbial Ecology at TUM. Between 2003 and 2013, Prof. Scherer was the Managing Director of TUM's Nutrition and Food Research Center ZIEL.
Awards
TUM Award for excellent teaching (2017)
MIV Innovation Award (2016): Connection of basic and applied science
Otto von Guericke Research Award (2016): Detection of the emetic toxin cereulide
Teaching Award from the Faculty of Bioscience (2007)
Otto von Guericke Research Award (2005): Diagnostics by FTIR Spectroscopy
Zehentner B, Ardern Z, Kreitmeier M, Scherer S und Neuhaus K: "A novel pH-regulated, unusual 603 bp overlapping protein coding gene pop is encoded antisense to ompA in Escherichia coli O157:H7 (EHEC)". Frontiers in Microbiology. 2020; 11:377.
Abstract
Neuhaus K, Landstorfer R, Fellner L, Simon S, Schafferhans A, Goldberg T, Marx H, Ozoline ON, Rost B, Kuster B, Keim DA and Scherer S: "Translatomics combined with transcriptomics and proteomics reveals novel functional, recently evolved orphan genes in Escherichia coli O157:H7 (EHEC)". BMC Genomics. 2016; 17:133.
Abstract
Fellner L, Simon S, Scherling C, Witting M, Schober S, Polte C, Schmitt-Kopplin P, Keim DA, Scherer S, Neuhaus K: "Evidence for the recent origin of a bacterial protein-coding, overlapping orphan gene by evolutionary overprinting". BMC Evolutionary Biology. 2015; 15:283.
Abstract
Böhm M-E, Huptas C, Krey V, Scherer S: "Massive horizontal gene transfer, strictly vertical inheritance and ancient duplications differentially shape the evolution of Bacillus cereus enterotoxin operons hbl, cytK and nhe". BMC Evolutionary Biology. 2015; 15:246.
Abstract
Ehling-Schulz M, Vukov N, Schulz A, Shaheen R, Andersson M, Märtlbauer E, Scherer S: "Identification and partial characterization of the nonribosomal peptide synthetase gene responsible for cereulide production in emtic Bacillus cereus". Applied and Environmental Microbiology. 2005; 71: 105-113.
Abstract