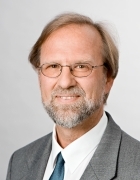 Prof. Dr. Siegfried Scherer
Academic Career and Research Areas
Prof. Scherer (b. 1955) conducts research into molecular ecology and the genetics of food-borne pathogens. The Chair's research groups investigate the pathogenic bacteria Listeria monocytogenes, Salmonella enterica, Bacillus cereus, Yersinia enterocolitica and enterohemorrhagic Escherichia coli. Prof. Scherer is also interested in taxonomy and evolution. In application-oriented projects, he explores the characterization of the biodiversity of microbial populations in industrial habitats. After studying biology, chemistry and physics, Prof. Scherer did his doctorate at the University of Konstanz (1983). He completed his lecturer qualification there in plant physiology and microbial ecology (1991). Research work took him to the Chinese Academy of Science (1986) and VirginiaTech in Blacksburg, USA (1988-89). In 1991, he became an associate professor at TUM. He accepted a professorship at the University of Veterinary Medicine in Vienna in 2002. In 2003, he was appointed to the Chair of Microbial Ecology at TUM. Prof. Scherer is the Managing Director of TUM's Nutrition and Food Research Center.
Awards
Gute Lehre Preis der Studienfakultät Biowissenschaften (2007)
Otto von Guericke Forschungspreis (2005)
Gute Lehre Preis der Studienfakultät Biowissenschaften (2005)
BYK Forschungspreis (1984)
Key Publications
Neuhaus K, Oelke D, Fürst D, Scherer S, Keim DA: "Towards automatic detecting of overlapping genes - clustered BLAST analysis of viral genomes". In: EvoBIO 2010. Editors: Pizzuti C, Ritchie MD, Giacobini M. Berlin/Heidelberg: Springer, 2010; 228–239.
Bresolin G, Morgan JAW, Ilgen D, Scherer S, Fuchs TM: "Low temperature-induced insecticidal activity of Yersinia enterocolitica". Molecular Microbiology. 2006; 59: 503-512.
Abstract
Ehling-Schulz M, Vukov N, Schulz A, Shaheen R, Andersson M, Märtlbauer E, Scherer S: "Identification and partial characterization of the nonribosomal peptide synthetase gene responsible for cereulide production in emtic Bacillus cereus". Applied and Environmental Microbiology. 2005; 71: 105-113.
Abstract
Loewe L, Textor V, Scherer S: "High deleterious genomic mutation rate in stationary phase of Escherichia coli". Science. 2003; 302: 1558-1560.
Abstract
Loessner MJ, Kramer K, Ebel F, Scherer S: "C-terminal domains of Listeria monocytogenes bacteriophage murein hydrolases determine specific recognition and high-affinity binding to bacterial cell wall carbohydrates". Molecular Microbiology. 2002; 44: 335-350.
Abstract