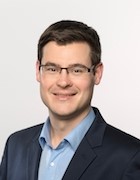 Prof. Dr. Franz Schilling
Academic Career and Research Areas
Prof. Schilling (*1983) conducts research in the field of preclinical molecular imaging. His research focusses on the development of novel methods in the area of magnetic resonance imaging (MRI). Together with his group he characterizes and validates imaging biomarkers. Interdisciplinarity is an essential characteristic of this area of research which combines the development of physical methods, the chemical characterization and synthesis of molecular sensors, as well as the investigation of biological and medical research questions.
Prof. Schilling studied physics at the University of Würzburg and the University of California (Berkeley). He obtained a PhD from TUM focusing on nuclear magnetic resonance. During postdoctoral research at the University of Cambridge he deepened his interest for molecular imaging. Since 2017 he leads an independent research group at the Klinikum rechts der Isar at TUM. In 2019 he was appointed Assistant Professor for Biomedical Magnetic Resonance at TUM.
Awards
Emmy Noether research group from the German Research Foundation (2018)
Summa Cum Laude Merit Award from the International Society for Magnetic Resonance in Medicine (2017)
Arnold-Sommerfeld-Price from the Bavarian Academy of Sciences (2016)
Feodor Lynen Research Fellowship from the Alexander von Humboldt Foundation (2014)
Ernst Award from the Gesellschaft Deutscher Chemiker (2013)
Key Publications
Düwel S, Hundshammer C, Gersch M, Feuerecker B, Steiger K, Buck A, Walch A, Haase A, Glaser SJ, Schwaiger M, Schilling F: "Imaging of pH in vivo using hyperpolarized 13C-labeled zymonic acid". Nature Communications. 2017; 8: 15126.
Abstract
Schilling F, Ros S, Hu De-En, D'Santos P, McGuire S, Mannion E, Neves AA, Brindle K: "MRI measurements of reporter-mediated increases in transmembrane water exchange enable detection of a gene reporter". Nature Biotechnology. 2017; 35: 75-80.
Abstract
Hundshammer C, Düwel S, Köcher S, Gersch M, Feuerecker B, Scheurer C, Haase A, Glaser SJ, Schwaiger M, Schilling F: "Deuteration of hyperpolarized 13C-labelled zymonic acid enables sensitivity-enhanced dynamic MRI of pH". ChemPhysChem. 2017; 18(18): 2422:2425.
Abstract
Schilling F, Warner LR, Gershenzon NI, Skinner TE, Sattler M, Glaser SJ: "Next Generation Heteronuclear Decoupling for High Field Biomolecular NMR". Angewandte Chemie International Edition. 2014; 126(17): 4564-4568.
Abstract
Schilling F, Düwel S, Köllisch U, Durst M, Schulte RF, Glaser SJ, Haase A, Otto AM, Menzel MI: "Diffusion of hyperpolarized 13C metabolites in tumor cells spheroids using real-time NMR spectroscopy". NMR in Biomedicine. 2013; 26(5): 557-568.
Abstract