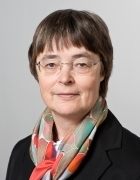 Prof. Dr. Doris Schmitt-Landsiedel
Academic Career and Research Areas
The research activities of Professor Schmitt-Landsiedel focus on interactions between electronic components and integrated circuits. This includes investigating circuits that combine low power dissipation with high yield and reliability, despite the increasing variability and degradation effects in new CMOS technologies. Another focus area is new components. Current research in this area, conducted in the clean room and analytic laboratory facilities associated with the professorship, focuses on nonvolatile nanomagnetic logic from the component level to the system level.
Professor Schmitt-Landsiedel (b. 1952) studied electrical engineering in Karlsruhe and physics in Freiburg and she received her doctorate at TUM. From 1981 to 1996, she worked in the Corporate Research department of Siemens, ultimately as the head of a research sector with projects related to yield optimization, integrated storage devices and ICs for digital hearing aids. She is a member of the German National Academy of Sciences and Engineering and the Senate of the German Research Foundation (DFG). She was a member of the Scientific Council until 2010. Professor Schmitt-Landsiedel has been a member of the supervisory board of Infineon Technologies AG since 2005.
Key Publications
Becherer M, Csaba G, Emling R, Porod W, Lugli P, Schmitt- Landsiedel D: "Field-coupled Nanomagnets for Interconnect-Free Nonvolatile Computing". Digest Internat. Solid-State Circuits Conf. ISSCC (solicited). 2009; 474-475.
Abstract
Wicht B, Paul S, Schmitt-Landsiedel D: "Analysis and Compensation of the Bitline Multiplexer in SRAM Current Sense Amplifiers". IEEE J. Solid-State Circuits. 2001; 36(11): 1745-1755.
Abstract
Eisele M, Berthold J, Schmitt-Landsiedel D, et al: "Impact of Intra-Die Device Parameter Variations on Path Delays and Design for Yield of Low Voltage Digital Circuits". IEEE Trans. Very Large Scale Integration Systems. 1997; 5 (4): 360-368.
Abstract
Maly W, Khare J, Griep S, Schmitt-Landsiedel D: "Yield oriented computer-aided defect diagnosis". IEEE Trans. Semiconductor Manufacturing. 1995; 195-206.
Abstract
Schmitt-Landsiedel D, Dorda G: "Novel hot-electron effects in the channel of MOSFETs observed by capacitance measurements". IEEE Trans. Electron Devices. 1985; 32: 1294-1301.