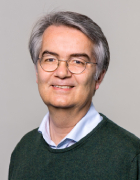 Academic Career and Research Areas
Prof. Schneitz (*1962) focuses on the molecular and cellular basis of plant morphogenesis. The most recent research of his group addresses two fundamental problems in biology: which signaling pathways regulate the integrity of the plant cell wall and how cells coordinate their behavior during morphogenesis. Experimental strategies include molecular genetic approaches coupled with state-of-the-art microscopy techniques and artificial intelligence-driven 3D image processing.
After studying molecular and cellular biology at the University of Basel's Biozentrum, he did his doctorate in Basel and Zurich on the genetic basis of development in Drosophila (1992). After receiving a grant from the Swiss National Science Foundation and the Ciba-Geigy Jubilee Foundation, he did postdoctoral research under Prof. R. E. Pruitt at Harvard University (1992/1995). During this time, he decided to switch to the field of plant development. Returning to Switzerland and the University of Zurich, he received a START Fellowship in 1998. Since 2002, he has been an associate professor at TUM. He is the editor of a number of scientific journals.
Vijayan A, Tofanelli R, Strauss S, Cerrone L, Wolny A, Kreshuk A, Hamprecht FA, Smith R and Schneitz K: "A digital 3D reference atlas reveals cellular growth patterns shaping the Arabidopsis ovule". eLife. 2021; 10: e63262
Abstract
Wolny A, Cerrone L, Vijayan A, Tofanelli R, Vilches Barro A, Louveaux M, Wenzl C, Strauss S, Wilson-Sánchez D, Lymbouridou R, Steigleder S, Pape C, Bailoni A, Duran-Nebreda S, Bassel G, Lohmann J, Tsiantis M, Hamprecht FA, Schneitz K, Maizel A and Kreshuk A: "Accurate and versatile 3D segmentation of plant tissues at cellular resolution". eLife. 2021; 9: e57613.
Abstract
Mergner J, Frejno M, List M, Papacek M, Chen X, Chaudhary A, Samara P, Richter S, Shikata H, Messerer M, Lang D, Altmann S, Cyprys P, Zolg D, Mathieson T, Bantscheff M, Hazarika R, Dawid C, Dunkel A, Hofmann T, Sprunck S, Falter-Braun P, Johannes F, Mayer K, Jürgens G, Wilhelm M, Baumbach J, Grill E, Schneitz K, Schwechheimer C and Küster B: "Mass-spectrometry-based draft of the Arabidopsis proteome". Nature. 2020; 579: 409-414.
Abstract
Chaudhary A, Chen X, Gao J, Leśniewska B, Hammerl R, Dawid C and Schneitz K: "The receptor kinase STRUBBELIG promotes the response to cellulose deficiency in Arabidopsis thaliana". PLoS Genetics. 2020; 16: e1008433.
Abstract
Scholz S, Pleßmann J, Enugutti B, Hüttl R, Wassmer K and Schneitz K: "The AGC protein kinase UNICORN controls planar growth by attenuating PDK1 in Arabidopsis thaliana". PLoS Genetics. 2019; 15: e1007927.
Abstract