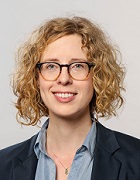 Prof. Dr. Kathrin Schumann
Academic Career and Research Areas
Professor Kathrin Schumann's research is focused on human immune cell engineering. She uses innovative CRISPR technology to ablate or modify genetic regions in human T cells in order to characterize their role in cellular function and stability. In the long term, this knowledge may help to develop new therapies for the treatment of autoimmune diseases and cancer.
Professor Schumann studied biochemistry at the University of Tübingen and obtained her PhD at the Max Planck Institute of Biochemistry in Martinsried. After a research stay at Novartis Institutes for Biomedical Research, Basel, she continued her research at the University of California, San Francisco. While working in the laboratories of Alex Marson and Jeffrey Bluestone, she developed CRISPR technologies for the engineering of primary human T cells. In 2018, she was appointed as Rudolf Mößbauer Tenure Track Assistant Professor of "Engineering Immune Cells for Therapy" at TUM School of Medicine.
Key Publications
Roth TL, Puig-Saus C, Yu R, Shifrut E, Carnevale J, Li PJ, Hiatt J, Saco J, Krystofinski P, Li H, Tobin V, Nguyen DN, Lee MR, Putnam AL, Ferris AL, Chen JW, Schickel JN, Pellerin L, Carmody D, Alkorta-Aranburu G, Del Gaudio D, Matsumoto, H, Morell M, Mao Y, Cho M, Quadros RM, Gurumurthy CB, Smith B, Haugwitz M, Hughes SH, Weissman JS, Schumann K, Esensten JH, May AP, Ashworth A, Kupfer GM, Greeley SAW, Bacchetta R, Meffre E, Roncarolo MG, Romberg N, Herold KC, Ribas A, Leonetti MD, Marson A: Reprogramming human T cell function and specificity with non-viral genome targeting". Nature. (2018); 559(7714):405-409.
Abstract
Rupp LJ*, Schumann K*, Roybal KT, Gate RE, Ye JY, Lim WA, Marson A: "CRISPR/Cas9-mediated PD-1 disruption enhances anti-tumor efficacy of human chimeric antigen receptor T cells". Sci Rep. 2017; 7(1):737.
Abstract
Hultquist JF*, Schumann K*, Woo JM, Manganaro L, Doudna JA, Simon V, Krogan NJ, Marson A: "A Cas9 ribonucleoprotein platform for functional genetic studies of HIV-Host interactions in primary human T Cells". Cell Reports. 2016; 17(5):1438-1452
Abstract
Schumann K*, Lin S*, Boyer E, Simeonov DR, Subramaniam M, Gate RE, Haliburton GDE, Ye CJ, Bluestone JA, Doudna JA, Marson A: "Generation of knock-in primary human T cells using Cas9 ribonucleoproteins". PNAS. 2015; 112(33):10437-42.
Abstract
Schumann K*, Lämmermann T*, Bruckner M, Legler DF, Polleux J, Spatz J, Schuler G, Förster R, Lutz MB, Sorokin L, Sixt M: "Immobilized chemokine fields and soluble chemokine gradients cooperatively shape migration patterns of dendritic cells". Immunity. 2010; 32(5): 703-13.
Abstract