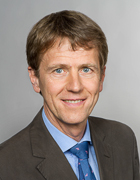 Prof. Dr. Heribert Schunkert
Academic Career and Research Areas
Professor Schunkert (b. 1959) is a clinically active cardiologist carrying out research in the field of molecular biology and the genetics of multifactorial cardiovascular diseases. He is/has been coordinator of several (inter)national (DZHK-, BMBF-, EU-, Leducq-) research consortia investigating the genetic causes of myocardial infarction (Scopus H-index: 96).
After completing medical school, Professor Schunkert started his residency at RWTH Aachen University. He was then offered a research fellowship at Brigham & Women's Hospital, Boston, sponsored by the German Research Foundation (DFG). His next position was at Beth Israel Hospital, Boston, where he was appointed as instructor in medicine. He then moved to Regensburg, completed his training in internal medicine and cardiology both at the Massachusetts General Hospital, Boston, and at the University Hospital Regensburg, and was appointed Associate Professor (C3) and head of the attending staff at the latter. From 2002 to 2012, Professor Schunkert was Full Professor (C4) and Director of the Department for Internal Medicine and Cardiology at the University of Lübeck. In 2012, he was offered the Chair of Cardiology at TUM. He is the director of the cardiology department at the German Heart Centre Munich.
Awards
Badge of Honor, German Cardiac Society (2015)
Franz Gross Medal, German Hypertension Society (2012)
Science Prize, German Society for the Prevention and Rehabilitation of Cardiovascular Diseases (2001)
Arthur Weber Prize, German Cardiac Society (2001)
Ernst von Leyden Commemorative Medal, Berlin Society for Internal Medicine (1995)
Nelson CP, Goel A, Butterworth AS, Kanoni S, Webb TR, Schunkert H, Farrall M, Danesh J, Samani NJ, Watkins H, Deloukas P. "Association analyses based on false discovery rate implicate new loci for coronary artery disease". Nat Genet. 2017; 49(9):1385-1391.
Kessler T, Wobst J, Wolf B, Eckhold J, Vilne B, Hollstein R, von Ameln S, Dang TA, Sager HB, Björkegren JLM, Erdmann J, Lusis AJ, Civelek M, Kaiser FJ, Schunkert H. "Functional characterization of the GUCY1A3 coronary artery disease risk locus". Circulation. 2017; 136(5):476-489.
Stitziel NO, Stirrups KE, Masca N, Erdmann J, Schunkert H. "Coding Variation in ANGPTL4, LPL, and SVEP1 and risk of coronary disease". N Engl J Med. 2016; 374(12):1134-1144.
Erdmann J, Meitinger T, Hengstenberg C, Schunkert H. "Dysfunctional nitric oxide signalling increases risk of myocardial infarction". Nature. 2013; 504(7480): 432-436.
Samani NJ, Schunkert H; WTCCC and the Cardiogenics. "Consortium. Genomewide association analysis of coronary artery disease". N Engl J Med. 2007; 357(5):443-453.