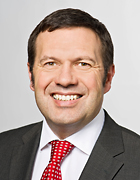 Prof. Dr. Claus Schwechheimer
Academic Career and Research Areas
Prof. Schwechheimer (* 1967) researches the fundamentals of plant growth, primarily using the model plant Arabidopsis thaliana, the thale cress. His special focus is on processes that are controlled by targeted protein degradation and by the plant hormones auxin and gibberellin. In his systems biology work, he uses observations from the areas of genomics and proteomics to generate working hypotheses, which he then investigates with the help of genetic, biochemical and cell biological methods. The focus of his research is on understanding the regulation of auxin transport by protein kinases and the regulation of gene expression by the gibberellic acid signaling pathway.

He studied biology and biotechnology at the Universities of Heidelberg and Strasbourg. After completing his doctorate at the University of East Anglia (Norwich, UK), he spent three years as a postdoctoral fellow at Yale University (New Haven, CT) with a grant from the DFG. In 2001 he became an Independent Research Group leader at the Center for Molecular Biology of Plants at the University of Tübingen, before being appointed to a professorship at TUM in 2008. Since 2011, Prof. Schwechheimer has been the spokesman for the Collaborative Research Center 924 "Molecular Mechanisms Regulating Yield and Yield Stability in Plants" funded by the Deutsche Forschungsgemeinschaft and he was co-coordinator of the DFG priority program SPP1365 "The Regulatory and Functional Network of Ubiquitin Family Proteins" as well as the Plant-KBBE "DELLA stress: control of the abiotic stress response in plants by DELLA proteins and chemicals that stabilize these repressors". Since 2015 he has been a liaison professor for the DFG at TUM.
Awards
Nirit and Michael Shaoul Fellowship for Visiting Scholars, Tel Aviv University (2015)
DAAD Short term docenture, declined (2015)
JSPS Travel Fellowship (2007)
DFG Postdoctoral Fellowship (1999-2001)
Stipend Eliteförderung Baden-Württemberg (1991-1994)
Marhava P, Bassukas AEL, Zourelidou M, Kolb M, Moret B, Fastner A, Schulze WX, Cattaneo P, Hammes UZ, Schwechheimer C*, Hardtke CS*: "A molecular rheostat adjusts auxin flux to promote root protophloem differentiation". Nature. 2018; 558 (7709): 297-300. *Corresponding authors.
Abstract
Lutz U, Nussbaumer T, Spannagl M, Diener J, Mayer KF, Schwechheimer C: "Natural haplotypes of FLM non-coding sequences fine-tune flowering time in ambient spring temperatures in Arabidopsis". Elife. 2017; 15 (6): e22114.
Abstract
Weller B, Zourelidou M, Frank L, Barbosa IC, Fastner A, Richter S, Jürgens G, Hammes UZ, Schwechheimer C: "Dynamic PIN-FORMED auxin efflux carrier phosphorylation at the plasma membrane controls auxin efflux-dependent growth". Proc Natl Acad Sci USA. 2017; 114(5): E887-E896.
Abstract
Barbosa IC, Zourelidou M, Willige BC, Weller B, Schwechheimer C: "D6 PROTEIN KINASE activates auxin transport-dependent growth and PIN-FORMED phosphorylation at the plasma membrane". Dev Cell. 2014; 29(6): 674-85.
Abstract
Schwechheimer C, Serino G, Callis J, Crosby WL, Lyapina S, Deshaies RJ, Gray WM, Estelle M & Deng XW: "Interactions of the COP9 signalosome with the E3 ubiquitin ligase SCFTIR1 in mediating auxin-response". Science 2001: 292; 1379-1382.
Abstract