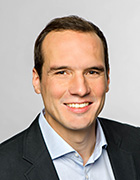 Prof. Dr. Sebastian Schwenen
Academic Career and Research Areas
Prof. Schwenen's research interests are in energy economics and industrial organization, with a focus on the global energy transition. In particular, Prof. Schwenen is researching strategies of energy producers for providing low-carbon energy, incentives for consumers for an efficient energy use, and the regulation of energy markets and infrastructure. Next to research and teaching, Prof. Schwenen was involved in various research projects and research-based policy advice for the EU Commission (DG Energy) and the Federal Ministry for Economic Affairs and Energy (BMWi).
Sebastian Schwenen obtained a PhD in economics and management from Copenhagen Business School and an MSc in economics from Humboldt University Berlin. He has been a visiting PhD student at the London School of Economics and Political Science and a post-doctoral researcher at the European University Institute in Florence and at DIW Berlin. Sebastian Schwenen joined TUM School of Management in September 2015.
Awards
TUM School of Management Supervisory Award 2018 for excellent supervisions of PhD students

(2019)

Best Paper Award, EEX Group Excellence Award, 2018.

Young Economist's Essay Award (2012), European Association for Research in Industrial Economics (EARIE). Selection Committee: J. Asker (UCLA), L. Cabral (NYU), L. Einav (Stanford), R. Porter (Northwestern), P. Rey (Toulouse School of Economics), Y. Spiegel (U Tel Aviv), T. Valletti (Imperial College London)
Le Coq C, and Schwenen S: "Financial contracts as coordination device." Journal of Economics & Management Strategy. 2020; 29(2): 241-259.
Abstract
Downar B, Ernstberger J, Reichelstein SJ, Schwenen S, and Zaklan A: "The impact of carbon disclosure mandates on emissions and financial operating performance". Review of Accounting Studies, Special Issue Conference. 2020.
Abstract
Le Coq C, Orzen H, and Schwenen S: "Pricing and capacity provision in electricity markets: an experimental study". Journal of Regulatory Economics. 2017; 51(2): 123-158.
Abstract
Schwenen S: "Strategic bidding in multi‐unit auctions with capacity constrained bidders: the New York capacity market". The RAND Journal of Economics. 2015; 46(4): 730-750.
Abstract
Ruester S, Schwenen S, Batlle C, Pérez-Arriaga I: "From Distribution Networks to Smart Distribution Systems: Rethinking the Regulation of European Electricity DSOs". Utilities Policy. 2014; 31: 229-237.
Abstract