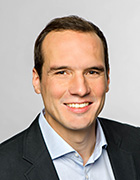 Prof. Dr. Sebastian Schwenen
Academic Career and Research Areas
Sebastian Schwenen's research interests are industrial organization and energy economics. His recent work studies market design in electricity markets and the impact different designs have on consumers and producers. In addition to his research and teaching, he has provided research-based economic consulting to DG Energy and the German Federal Ministry for Economic Affairs and Energy within the scope of various research projects on energy markets.
Sebastian Schwenen obtained a PhD in economics and management from Copenhagen Business School and an MSc in economics from Humboldt University Berlin. He has been a visiting PhD student at the London School of Economics and Political Science and a post-doctoral researcher at the European University Institute in Florence and at DIW Berlin. Sebastian Schwenen joined TUM School of Management in September 2015.
Key Publications
Schwenen S: "Strategic Bidding in Multi-unit Auctions with Capacity Constrained Bidders: the New York Capacity Market". Rand Journal of Economics. forthcoming.
Schwenen S: "Market Design and Supply Security in Imperfect Power Markets". Energy Economics. 2014; 43: 256-263.
Ruester S, Schwenen S, Batlle C, Pérez-Arriaga I: "From Distribution Networks to Smart Distribution Systems: Rethinking the Regulation of European Electricity DSOs". Utilities Policy. 2014; 31: 229-237.
Ruester S, Schwenen S, Finger M, Glachant JM: "A post-2020 EU Energy Technology Policy: Revisiting the Strategic Energy Technology Plan". Energy Policy. 2014; 66: 209-217.