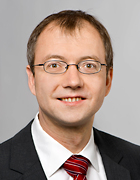 Prof. Dr.-Ing. Bernhard U. Seeber
Academic Career and Research Areas
Professor Seeber (b. 1973) investigates sound processing in the human ear and uses his insights to make improvements to hearing aids and audio systems. His current research focus is on signal processing for hearing aids and cochlear implants, binaural psychoacoustics, virtual acoustical reality, and acoustic nondestructive testing. His research work is characterized by a combination of experimental and theoretical approaches, a wide range of methods, and cooperation with other researchers and industry.
Professor Seeber obtained his first and his doctoral degree (2003) in electrical engineering and information technology from TUM. In 2003, he joined the University of California at Berkeley (USA) to develop new methods to investigate directional hearing. Between 2007 and 2012, he led a research group at the MRC Institute of Hearing Research (Nottingham/UK) where he explored how sounds can be distinguished when they are mixed with background noise. In 2011, he initiated the Cochlea Implant Group at the NIHR Nottingham Biomedical Research Centre (UK). He joined TUM again in 2012 as professor.
Awards
Lothar Cremer Award, German Acoustical Society DEGA (2010)
Award of the Information Technology Society in the VDE (2009)
Emmy Noether Fellowship, DFG (2007)
Promoting award, Information Technology Society in the VDE (2004)
Seeber BU, Kerber S, Hafter ER: "A System to Simulate and Reproduce Audio-Visual Environments for Spatial Hearing Research". Hearing Research. 2012; 260(1-2): 1-10.
Abstract
Takanen, M., & Seeber, BU. "A Phenomenological Model Reproducing Temporal Response Characteristics of an Electrically Stimulated Auditory Nerve Fiber". Trends Hear, 2022: 26, 23312165221117079.
Abstract
Monaghan JJM, Seeber BU: "A method to enhance the use of interaural time differences for cochlear implants in reverberant environments". J Acoust Soc Am. 2016; 140 (2): 1116-1129.
Abstract
Wiggins IM, Seeber BU: "Effects of dynamic-range compression on the spatial attributes of sounds in normal-hearing listeners". Ear & Hearing. 2012; 33(3): 399-410.
Abstract
Seeber BU, Fastl H: "Localization cues with bilateral cochlear implants". J. Acoust. Soc. Am. 2008; 123(2): 1030-1042.
Abstract