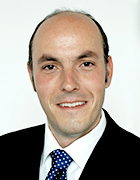 Prof. Dr. Stephan A. Sieber
Academic Career and Research Areas
Prof. Sieber's (b. 1976) research field is bioorganic chemistry. The aim of his work is to develop new drugs for multidrug-resistant bacteria. His research is based on methods which combine synthetic chemistry, functional proteomics, cell biology and mass spectrometry. This approach enables the discovery of new active substances, some of which are currently being optimized for medical application.


Prof. Sieber studied chemistry at the University of Marburg and completed his doctorate at the laboratories of Prof. C. T. Walsh at the Harvard Medical School and Prof. M. Marahiel at the University of Marburg (2004). He did postdoctoral research at the Scripps Institute in La Jolla, California, under Prof. B. F. Cravatt (2006). After that, he undertook independent research at Munich's Ludwig Maximilian University with the assistance of an Emmy Noether scholarship from the German Research Foundation. In 2009, he was appointed to the Chair of Organic Chemistry II at TUM. In 2010, he received an ERC starting grant and EXIST start-up support for the company AVIRU GmbH, which was established based on his research.
Awards
Heinz Maier-Leibnitz Medal, TUM (2016)
ERC Consolidator Grant (2016)
Klung Wilhelmy Science Award for Chemistry (2016)
Elected Member of the Bavarian Academy of Sciences and Humanities (2016)
Novartis Chemistry Lectureship (2016)
Hoegl A, Nodwell MB, Kirsch VC, Bach NC, Pfanzelt M, Stahl M, Schneider S, Sieber SA, "Mining the cellular inventory of pyridoxal phosphate-dependent enzymes with functionalized cofactor mimics", Nature Chemistry. 2018:, 10: 1234–45.
Abstract
Lehmann J, Cheng, TY, Aggarwal A, Park AS, Zeiler E, Raju RM, Akopian T, Kandror O, Bach NC, Sacchettini JC, Moody DB, Rubin EJ, Sieber SA*, "An antibacterial β-lactone kills Mycobacterium tuberculosis by infiltrating mycolic acid biosynthesis", Angew. Chem. Int. Ed. 2018, 57, 348-53.
Fetzer C, Korotkov VS, Thänert R, Lee KM, Neuenschwander M, von Kries JP, Medina E, Sieber SA, "A Chemical Disruptor of the ClpX Chaperone Complex Attenuates the Virulence of Multidrug-Resistant Staphylococcus aureus", Angew. Chem. Int. Ed. 2017; 56: 15746-50.
Gersch M, Famulla K, Dahmen M, Göbl C, Malik I, Richter K, Korotkov VS, Sass P, Rübsamen-Schaeff H, Madl T, Brötz-Oesterhelt H, Sieber, SA, "AAA+ chaperones and acyldepsipeptides activate the ClpP protease via conformational control", Nature Communications. 2015; 6: article number 6320.
Abstract
Zeiler E, List A, Alte F, Gersch M, Wachtel R, Poreba M, Drag M, Groll M, Sieber SA, "Structural and functional insights into caseinolytic proteases reveal an unprecedented regulation principle of their catalytic triad", Proc Natl Acad Sci USA. 2013; 110, 11302-7.
Abstract