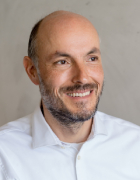 Prof. Dr. Stephan A. Sieber
Academic Career and Research Areas
Prof. Sieber (*1976) conducts research in the field of bioorganic chemistry with the aim of developing new drugs against multi-resistant bacteria. The research is based on methods ranging from synthetic chemistry, functional proteomics and cell biology to mass spectrometry. This approach has already led to the discovery of new active substances, some of which are currently being optimized for medical application.

Prof. Sieber studied chemistry at the University of Marburg and completed his PhD thesis in the laboratories of Prof. C. T. Walsh at Harvard Medical School and Prof. M. Marahiel at the University of Marburg (2004). After a post-doctoral stay at the Scripps Institute with Prof. B. F. Cravatt (2006), he started his independent research at LMU Munich, funded by the DFG Emmy Noether program. In 2009, he received an appointment at TUM the chair of Organic Chemistry II. In 2010 and 2017 he received an ERC Starting Grant and an ERC Consolidator Grant.
Awards
Merck Future Insight Prize for antibacterial research (2020)
Klaus-Grohe-Prize of the GDCh for medicinal chemistry (2020)
M4 award of the Bavarian Ministry of Economics for aBacter (start-up) (2019)
ERC Consolidator Grant (2016)
Klung-Wilhelmy-Wissenschaftspreis für Chemie (2016)
Hübner, I., Shapiro, J. A., Hoßmann, J., Drechsel, J., Hacker, S. M., Rather, P. N., Pieper, D. H., Wuest, W. M., Sieber, S. A.* "Broad spectrum antibiotic Xanthocillin X effectively kills Acinetobacter baumanii via dysregulation of heme biosynthesis", ACS Cent. Sci., 2021, 7, 488-498.
Abstract
Le, P., Kunold, E., Macsics, R., Rox, K., Jennings, M., Ugur, I., Reinecke, M., Chaves-Moreno, D., Hackl, M.W., Fetzer, C., Mandl, F.A.M., Lehmann, J., Korotkov, V.S., Hacker, S.M., Küster, B., Antes, I., Pieper, D., Rohde, M., Wuest, W.M., Medina, E., Sieber, S.A.* "Repurposing human kinase inhibitors to create an antibiotic active against drug-resistant Staphylococcus aureus, persisters and biofilms", Nat. Chem., 2020, 12, 145-158.
Abstract
Kielkowski, P., Buchsbaum, I.Y., Kirsch, V.C., Bach, N.C., Drukker, M, Cappello, S.*, Sieber, S.A* "FICD activity and AMPylation remodelling modulate human neurogenesis", Nat. Commun., 2019.
Abstract
Gatsogiannis, C., Balogh, D., Merino, F., Sieber, S.A.*, Raunser, S.* "Cryo-EM structure of the ClpXP protein degradation machinery", Nat. Struct. Mol. Biol., 2019, 26, 946-954.
Abstract
Hoegl, A., Nodwell, M.B., Kirsch, V.C., Bach, N.C., Pfanzelt, M., Stahl, M., Schneider, S., and Sieber, S.A.* "Mining the cellular inventory of pyridoxal phosphate-dependent enzymes with functionalized cofactor mimics." Nat. Chem. 2018, 10, 1234-1245.
Abstract