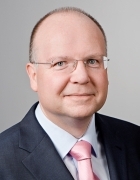 Academic Career and Research Areas
Prof. Skerra (b. 1961) engages research in the field of protein engineering and design. The focus of his work is on the construction of artificial binding proteins and enzymes with novel, tailored functions, in particular for applications in medical and industrial biotechnology. Rational and combinatorial research approaches are pursued in tandem with protein biochemical and spectroscopic methods as well as protein crystallographic analyses. Several technologies from his laboratory have entered commercialization: Strep-tag®, Anticalin® proteins and PASylation®.
Following chemical studies at TU Darmstadt, Prof. Skerra obtained a doctorate at the Gene Centre of Munich's Ludwig Maximilians University in 1989 and completed his lecturer qualification in biochemistry at the University of Frankfurt am Main in 1995. Before his appointment as full professor at TUM, he was professor of protein chemistry at TU Darmstadt from 1994 to 1998. Prof. Skerra is founder of Pieris Pharmaceuticals, Inc. (Nasdaq: PIRS) and XL-protein GmbH. In 2008, he was elected to the National Academy of Science and Engineering (acatech). He is active in the German Academic Scholarship Foundation, the German Chemical Society, the Society for Biochemistry and Molecular Biology, and he was initiator and Vice-Chairman of the Cluster of Excellence "Center for Integrated Protein Science Munich" from 2006-2012. Since 2020, Prof. Skerra has been Chairman of the Department of Molecular Life Sciences at the TUM School of Life Sciences and Academic Director of the TUM Food and Agro Center for Innovation and Technology (FACIT) at the Weihenstephan Campus.
Awards
Friedrich Bergius Award, Evonik Industries, Berlin (2018)
Burghausen Chemistry Award (2011)
Election to the National Academy of Science and Engineering - acatech (2008)
Karl Heinz Beckurts Award (2005)
Heinz Maier-Leibnitz Medal of TUM (2004)
Dauner, M., Eichinger, A., Lücking, G., Scherer, S. & Skerra, A.: "Reprogramming human siderocalin to neutralize petrobactin, the essential iron scavenger of Anthrax bacillus". Angew. Chem. Int. Ed. Engl. 2018; 57: 14619-14623.
Abstract
Martin, J., Eisoldt, L. & Skerra, A.: "Fixation of gaseous CO2 by reversing a decarboxylase for the biocatalytic synthesis of the essential amino acid L-methionine". Nat. Catal. 2018; 1: 555-561.
Abstract
Kuhn, S.M., Rubini, M., Müller, M.A. & Skerra A.: "Biosynthesis of a fluorescent protein with extreme pseudo-Stokes shift by introducing a genetically encoded non-natural amino acid outside the fluorophore". J. Am. Chem. Soc. 2011; 133: 3708-3711.
Abstract
Schönfeld D, Matschiner G, Chatwell L, Trentmann S, Gille H, Hülsmeyer M, Brown N, Kaye PM, Schlehuber S, Hohlbaum AM, Skerra A: "An engineered lipocalin specific for CTLA-4 reveals a combining site with structural and conformational features similar to antibodies". Proc. Natl. Acad. Sci. USA. 2009; 106: 8198-8203.
Abstract
Schmidt TGM, Skerra A: "The Strep-tag system for one-step purification and high affinity detection or capturing of proteins". Nat. Protoc. 2007; 2: 1528-1535.
Abstract