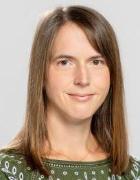 Prof. Dr. Nicole Strittmatter
Academic Career and Research Areas
Prof Strittmatter (b. 1987) focuses her research on the development and application of in situ and ambient mass spectrometry methods, imaging mass spectrometry (MSI) as well as multimodal, multi-omics data integration to advance our understanding of complex biological systems. Her research groups aims to analyse the spatial heterogeneity in pre-clinical and clinical tissue specimen as well as microbial biofilms in medical, environmental and biotechnological settings.
Prof Strittmatter studied Chemistry at the Justus Liebig University in Giessen, Germany. She performed her doctoral studies at the Department for Surgery and Cancer at Imperial College London, UK. From 2015-2021, she was Senior Scientist (from 2019 Associate Principal Scientist) in the MSI group at AstraZeneca in their R&D headquarters in Cambridge, UK in the Departmend of Clinical Pharmacology and Safety Sciences (CPSS). 2021 Prof Strittmatter was appointed to the professorship for Analytical Chemistry at TUM.
Strittmatter N, Moss JI, Race AM, Sutton D, Rodriguez Canales J, Ling S, Wong E, Wilson J, Smith A, Howes C, Bunch J, Barry ST, Goodwin RJA, Ashford MB. Understanding nanomedicine distribution using multimodal molecular imaging, Theranostics 2022, 12(5):2162-2174.
Abstract
Strittmatter N and Kanvatirth P, Inglese P, Race AM, Nilsson A, Dannhorn A, Ling S, Wong E, Seeliger F, Serra MP, Hoffmann S, Maglennon G, Atkinson J, Jones S, Hamm G, Bunch J, Andren P, Takats Z, Goodwin R, Mastroeni P. Studying the effects of Salmonella typhimurium infection and ciprofloxacin treatment using mass spectrometry imaging, Journal of the American Society of Mass Spectrometry 2021, 32, 12, 2791–2802.
Abstract
Strittmatter N and Lovrics A, Sessler J, McKenzie JS, Kucsma N, Szakacs G, Takats Z. Shotgun Lipidomic Characterization of the NCI60 Cell Line Panel Using Rapid Evaporative Ionization Mass Spectrometry. Analytical Chemistry 2016, 88 (15), 7507–7514.
Abstract
Liebeke M, Strittmatter N, Fearn S, Morgan AJ, Kille P, Fuchser J, Wallis D, Palchykov V, Robertson J, Lahive E, Spurgeon DJ, McPhail D, Takats Z, Bundy JG. Unique metabolites protect earthworms against plant polyphenols. Nature Communications 2015.
Abstract
Strittmatter N, Rebec M, Jones EA, Golf O, Abdolrasouli A, Balog J, Behrends V, Veselkov KA, Takats Z. Characterization and identification of clinically relevant microorganisms using rapid evaporative ionization mass spectrometry. Analytical Chemistry 2014, 86(13): 6555-62.
Abstract