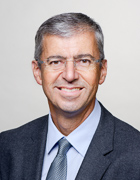 Academic Career and Research Areas
Prof. Thuro's (b. 1962) research area is tunnel construction, in particular excavatability problems (performance and wear forecasts for tunneling by drilling and blasting, cutting and drilling machines) and slope movements, from the mapping of phenomena through monitoring to modeling and marking danger zones. Prof. Thuro is a member of the board of the engineering geology section of the German Geotechnical Society (DGGT). He is also an active member of a number of study groups and is on the editorial board of several academic journals. As Dean of Studies, he is responsible in particular for the geosciences Bachelor degree course and the hydrogeology Masters program.
Prof. Thuro studied geology (specializing in engineering geology and hydrogeology) at TUM. He became a research assistant after that and did his doctorate in 1995 on the drillability of rocks with conventional tunneling. In 1999, he moved to the Swiss Federal Institute of Technology (ETH) in Zurich, completing his lecturer qualification there in 2002. In January 2004, he accepted his current position at TUM.
Key Publications
Thuro K, Singer J, Festl J, Wunderlich T, Wasmeier P, Reith Ch, Heunecke O, Glabsch J, Schuhbäck St: "New landslide monitoring techniques – developments and experiences of the alpEWAS project". Journal of Applied Geodesy. 2010; 4: 69-90.
Abstract
Thuro K, Käsling H: "Classification of the abrasiveness of soil and rock". Geomechanics & Tunnelling. 2009; 2: 179-188.
Abstract
Thuro K, Schormair N: "Fracture propagation in anisotropic rock during drilling and cutting". Geomechanik & Tunnelbau. 2008¸ 1: 8-17.
Abstract
Thuro K, Berner C, Eberhardt E: "Der Bergsturz von Goldau 1806 – 200 Jahre nach dem Ereignis". Felsbau. 2006; 24: 59-66.
Thuro K, Plinninger RJ: "Klassifizierung und Prognose von Leistungs- und Verschleissparametern im Tunnelbau". In: Taschenbuch für den Tunnelbau 2003. Editor: Dt. Ges. für Geotechnik e.V., Essen (Glückauf),2002: 62-126.