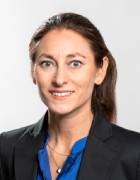 Academic Career and Research Areas
In her research, Anne Tryba studies how individual and team motivations, competences, cognition, and decisions in entrepreneurial and innovation contexts shape organization design, behavior, and outcomes. Her main research interests revolve around exploring how decision-makers, entrepreneurial education design, and organizational factors interact and influence sustainable entrepreneurship and innovation practices and outcomes.
Anne Tryba studied business administration at the TU Freiberg. She worked as a strategy consultant at Capgemini Invent, as a senior manager in corporate marketing and strategy at Telefónica Germany and co-founded a start-up. In 2018, she received her PhD in Entrepreneurship from the University of Luxembourg and subsequently worked as a postdoc at TUM. From 2019, she was a professor of entrepreneurship and innovation at Munich Business School. In 2023, she was appointed Professor of Entrepreneurial Education at TUM.
Awards
Best Reviewer Award Entrepreneurship Division, Academy of Management (2017)
Best Paper Proceedings, Academy of Management (2017)
Fonds Nationale de la Recherche Luxembourg: AFR PhD Research Grant (2014-2018)
Key Publications
Tryba, Anne; Patzelt, Holger; Breugst, Nicola: Knowledge diversity and venture growth: The contingent effects of early planning and experimentation. British Journal of Management 34 (1), 2023, 343-362.
Abstract
Tryba, Anne; Fletcher, Denise: How shared pre-start-up moments of transition and cognitions contextualize effectual and causal decisions in entrepreneurial teams. Small Business Economics 54 (3), 2019, 665-688.
Abstract
Tryba, Anne: Venture Creation by Teams: How Joint Pre-Founding Circumstances Imprint on Effectual Decision-Making. Academy of Management Proceedings, 2017.
Abstract
Tryba, A., & Block, J. (2019). Shared Vision and Founding Team Reconfigurations: The Role of Prior Work Relations. 79th Annual Meeting of the Academy of Management, Boston, U.S.
Abstract