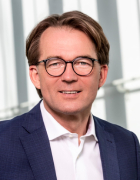 Prof. Dr. Matthias Tschöp
Academic Career and Research Areas
Professor Tschöp's research focuses on dissecting the molecular underpinnings of diabetes and obesity in order to discover new preventive and therapeutic approaches for the metabolic syndrome. One of his areas of interest is the role of gut-brain communication as a key circuitry that regulates adiposity, glucose homeostasis and energy metabolism. Currently, his team from IDO aims at developing and establishing novel strategies for the early detection, individualized characterization, and personalized therapy of metabolic dysfunction.
Professor Tschöp, M.D., was the first German physician to be awarded the prestigious Alexander von Humboldt Professorship (2012). He holds the chair of the Department of Metabolic Diseases at TUM. He has been a member of the German National Academy of Sciences Leopoldina since 2013. In 2018, Professor Tschöp was appointed CEO and Scientific Director of Helmholtz Zentrum München. Professor Tschöp completed his undergraduate studies at LMU Munich and received his PhD from the same university. Subsequently, he held postdoctoral positions at Eli Lilly and the German Institute of Human Nutrition in Potsdam. At the University of Cincinnati he led a research institute as a tenured professor of endocrinology and diabetes at the Metabolic Diseases Institute, held the Arthur Russell Morgan Endowed Chair of Medicine and was research director of the Metabolism Center of Excellence for Diabetes and Obesity.
Awards
Paul Langerhans Medal, German Diabetes Association (2019)
Hansen Family Award, Bayer-Foundation (2017)
Erwin Schrödinger Prize (2014)
Paul Martini Award, Paul Martini Foundation (2014)
Outstanding Scientific Achievement Award, American Diabetes Association (2011)
Key Publications
Finan B, Yang B, Ottaway N, Stemmer K, Müller TD, Yi CX, Habegger KM, Schriever SC, Garcia-Caceres C, Kabra DG, Hembree J, Holland J, Raver C, Seeley RJ, Hans W, Irmler M, Beckers J, Hrabe de Angelis M, Tiano JP, Mauvais-Jarvis F, Perez-Tilve D, Pfluger PT, Zhang L, Gelfanov V, DiMarchi RD, Tschöp M: "Targeted estrogen delivery reverses the metabolic syndrome." Nat Med. 2012; 8(12):1847-1856.
Abstract
Perez-Tilve D, Hofmann S, Basford J, Pfluger PT, Patterson PT, Grant E, Perez-Wilson H, Granholm N, Arnold M, Trevaskis JL, Butler AA, Davidson WS, Woods SC, Benoit SC, Sleeman MW, DiMarchi RD, Hui DY, Tschöp M: "Melanocortin signaling in the CNS directly regulates circulating cholesterol." Nat Neurosci. 2010;13(7): 877-882.
Abstract
Kirchner H., Gutierrez J, Pfluger PT, Morgan TA, Solenberg P, Willency J, Schuermann A, Joost HG, Jandacek R, Hale J, Heiman ML, Tschöp M: "GOAT links dietary lipids with the endocrine control of energy balance." Nat Med. 2009; 15(7): 741-745.
Abstract
Day JW, Ottaway N, Patterson JT, Gelfanov V, Smiley D, Gidda J, Findeisen H, Bruemmer D, Drucker DJ, Chaudhary N, Holland J, Hembree J, Abplanalp W, Grant E, Ruehl J, Wilson H, Kirchner H, Lockie SH, Hofmann S, Woods SC, Nogueiras R, Pfluger PT, Perez-Tilve D, DiMarchi R and Tschöp M: "A new glucagon and GLP-1 co-agonist eliminates obesity in rodents." Nat Chem Biol. 2009; 5(10):749-757.
Abstract
Tschöp M, Smiley D, Heiman ML: "Ghrelin induces adiposity in rodents." Nature. 2000; 407(6806): 908-913.
Abstract