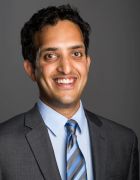 Academic Career and Research Areas
Prof. Vedula's research interests are in the geography of entrepreneurship and environmental entrepreneurship. He has researched a wide array of topics including spatial contagion behavior in the venture capital investment industry, regional differences in the adoption of green building practices, how ideological differences in communities shape renewable energy entrepreneurship, and the dynamics of regional entrepreneurial ecosystems. Current research projects include an analysis of competitive dynamics between startups and incumbents in the green building supply industry, configurations that drive high-growth entrepreneurship in regional entrepreneurial ecosystems, and innovation dynamics in renewable energy.
Prof. Vedula completed his Bachelors degree in Physiology and Mathematics from the University of Toronto. He subsequently obtained a Masters degree in Biomedical Engineering from McGill University, and a Ph.D. in Strategic, Organizational, and Entrepreneurial Studies from the University of Colorado Boulder. He then worked as an assistant professor of Entrepreneurship at Babson College. Since November 2020, Prof. Vedula was appointed to the professorship for Entrepreneurship and Communities at TUM.
Awards
Ministry of Science and Innovation of Spain (Ministerio de Ciencia e Innovación) Grant (2021)
Social Sciences and Human Research Council of Canada (SSHRC) Insight Grant (2020)
Academy of Management, Entrepreneurship Division, Best Paper Finalist (2020)
Strategic Management Society, Best Paper Finalist (2020)
Sustainability, Ethics, and Entrepreneurship Conference Best Paper Award (2018)
Key Publications
Vedula, S., York, G.J., Conger, M., Embry, E: "Green to Gone? Regional Institutional Logics and Firm Exit in Moral Markets". Forthcoming at Organization Science. 2021.
Abstract
Jones, J., York, G.J., Vedula, S., Conger, M. Lenox, M. "The Collective Construction of Green Building: Industry Transition Towards Environmentally Beneficial Practices". Academy of Management Perspectives. 2019, 33 (4): 425-449.
Abstract
Vedula, S., Kim, P.H. "Gimme Shelter or Fade Away: The Impact of Regional Entrepreneurial Ecosystem Quality on Startup Survival". Industrial and Corporate Change. 2019; 28(4): 827-854.
Abstract
Vedula, S., Fitza, M. "Regional Recipes: A Configurational Analysis of the Regional Entrepreneurial Ecosystem for US Venture Capital-Backed Startups". Strategy Science. 2019; 4(1): 4-24.
Abstract
Vedula, S., York, G.J., Corbett, A. "Through the Looking-Glass: The Impact of Regional Institutional Logics and Knowledge Pool Characteristics on Opportunity Recognition and Market Entry". Journal of Management Studies. 2019; 56(7): 1414-1451.
Abstract